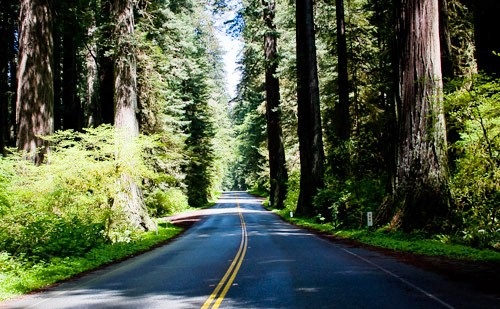 THE JOYFUL JOGS: Many a runner has a favorite route or two close to home, but there are some dream paths out there, those wonderful wends through epic places that can enhance a run and raise a person's drive, outlook, and spirit. But those wonderful wends aren't always accessible, or, if they are, there's traffic to think about, and other factors, too. But traffic won't be a consideration on Saturday, Sept. 13 when the Run in the Redwoods half-marathon and 5K heads out into Prairie Creek Redwoods State Park. The capacity will be limited -- think 200 people -- and the famous Newton B. Drury Scenic Parkway? It'll be "closed to all vehicle traffic on race-day... to commemorate the 150th Anniversary of the California State Parks." That means you and your 199 co-runners shall have a scenic parkway mostly to yourselves, or, at least, you won't need to share it with automobiles.
REDWOOD PARKS ASSOCIATION: The run's sponsor is "a local nonprofit that supports interpretative activities and visitors centers in 8 locations throughout the Redwood National and State Parks." The Run in the Redwoods, which is the first-ever, will help fund, in part, improvements on the Revelation Trail, an "interpretative trail with special features for visually impaired users."
THE PARKWAY: The portion set to close on Sept. 13 is ten miles long, so you'll get plenty of big tree enjoyment along the way. Look for families, kids on bikes, and people taking a saunter, the better to marvel at the tallest trees on earth. Registration deadline for Run in the Redwoods is Aug. 30.
Copyright FREEL - NBC Local Media