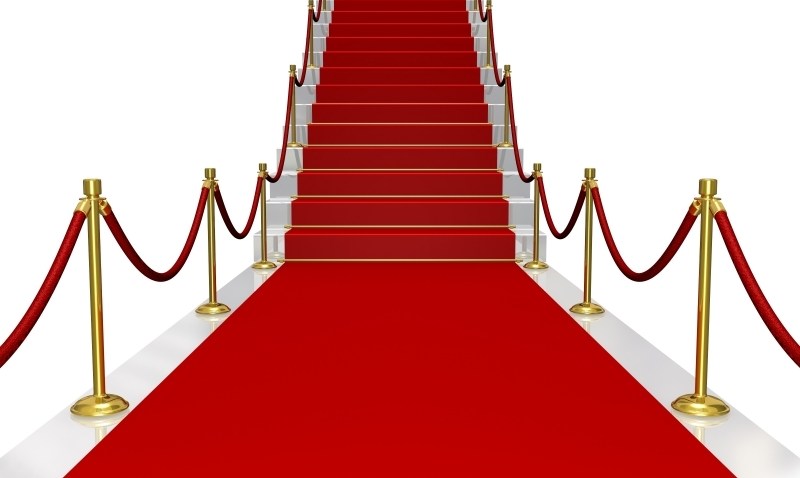 THE RITES OF A CALIFORNIA WINTER: What are some of the sights and sounds of the coldest months, at least around our state? Snow gently accumulated way up in the redwoods is a fine one. Waves tossing upon a chilly and empty beach. And perhaps a pool splash, down Palm Springs way. But we'll proffer that camera flashbulbs, the old-school type that go "froosh froosh froosh," is also a frequently heard sound come the winter months. Of course, we speak not of the entire state, but of Los Angeles, and we speak not of the entire city, but the red carpet scenes outside award shows. For January through March is indeed award show season in Southern California, when the movies and stars from the previous year hit the poshest venues for a night of glittering accoladery. And, yes, many of us watch on television -- please, the dresses must be discussed, in detail, over cocktails and snacks -- but there is a way to go to a fancy award night, in LA, and to use your own camera techniques to do so. Get ready to froosh froosh froosh that flashbulb, film fans, during the Discover Los Angeles #RedCarpetLA contest.
GLAM AND INSTAGRAM: This is way easy to enter. Just take a "LA-inspired photo" -- we spied a sweet dog in sunglasses on the main Discover Los Angeles page -- and post it to Instagram or Flickr along with the hashtag #RedCarpetLA. Hashtagged pics'll be pondered through Dec. 17, and then? One lucky and talented photog -- yeah, we said "photog," which is practically the law during LA award season -- will get to go to Los Angeles, along with a friend. That's two airplane tickets, plus three luxed-out nights at Loews Hollywood, plus VIP Red Carpet Access to the Critics' Choice Movie Awards in January.
OF COURSE... everything in movie-making takes a lot of fine print, so get updated on the rules and asterisks. And then get snapping, click click, we mean froosh froosh froosh, for your chance to visit the capital of entertainment awards at the height of its wintry award-presenting season.
Copyright FREEL - NBC Local Media