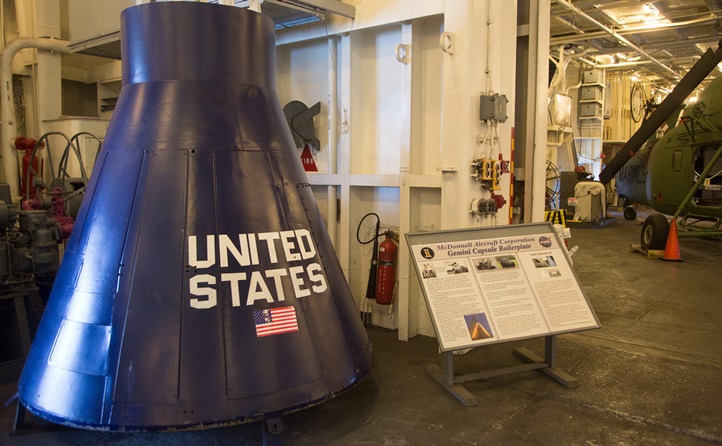 A QUIRKY TRUTH: Much of the history of the moon, or at least our human interaction with it, resides on earth. There are no museums on our lunar satellite -- that we know of, at least -- and no visitors centers or welcome booths. But here on the home turf? There's so many artifacts and plaques and machines and bits of history that relate to the moon missions. And those missions, of course, spent a fraction of their time on the moon and the majority of it preparing for the trip and returning.
THE SPLASHDOWN: It's the dramatic return of Apollo 11 that will get the focus at the USS Hornet on Saturday, July 20, which happens to be the mission's 44th anniversary. The Living Ship Day will remember the history-changing event by welcoming a series of speakers including helicopter pilots and the Hornet's own Apollo curator. In short? If you're interested in the moon missions, this is a fine spot to be on the big anniversary.
PLUS... the Sea King helicopter will receive its own spotlight during the celebration. It was a Sea King that recovered the returning astronauts from their watery landing, after all, and it is nice to pause and remember that there were other flying machines involved with Apollo beyond the famous spacecraft that transported men into space. A Sikorsky Sea King that helped recover the Gemini 4 crew back in 1965 will be dedicated that day, too.
It's a good thing to look up in wonder, and often, but the moon's human history is all around us and ever-present. A big anniversary is a great day to reflect as well as ooh-and-aah over some cool machines and history.
Public hours on July 20 are 10 a.m. to 5 p.m.
Copyright FREEL - NBC Local Media