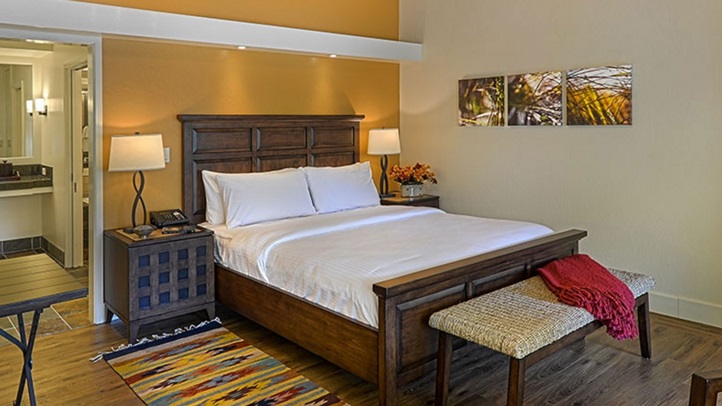 CARMEL DESPITE THE CHILL: Weather pages tend to break down the forecast into hourly, daily, weekly, and 10 Day sections, for ease of use. It's this last category that travelers so often visit, as they keep a coming vacation in view, and what exactly the skies'll reveal when they arrive. Will it be sunny and 74 degrees? Shall there be some wind? And what if El Niño decides to call upon my destination at the very same time I do? We can't impact the weather -- spoiler alert -- but letting the weather decide our calendar isn't something any of us are into, either, as a rule. So what if it is a bit rainy, and you'll need to pull those galoshes out of the deepest recesses of your car's trunk? There are lovely hotels dotting the Golden State ready for the rain, and there are those umbrella-toting adventurers looking for a package that's themed to a particularly famous weather event. One of those aforementioned lovely hotels is Quail Lodge & Golf Club, in Carmel, which is offering the "Escape El Niño" package through March 2016.
THE GOODIES INCLUDE... midweek "discounted room rates" that kick off at $175. You'll be staying in a Deluxe Guestroom but not paying the Deluxe Guestroom rate (the rate's for the Superior Guestroom). Whether it happens to be sprinkling or not during your stay, you might want to book a fireplace-pretty Grand Deluxe King Guestroom, with a starting price point of $195. There's also an opportunity to secure a Garden King Suite for $250, and all come with goodies like a morning visit to the Light and Tasty Continental Breakfast Bar.
DOES A RAINY HOTEL STAY... require a fireplace, yummy breakfast vittles, and a swanky room for cozying into? Nope, but it definitely enhances your indoor time a bunch. And reading that 10 Day weather forecast, over and over, trying to predict where a storm will land can get a bit stressful. Best do some nesting at Carmel, and Quail Lodge, and not worry a peep whether you'll need your parasol or not.
Copyright FREEL - NBC Local Media