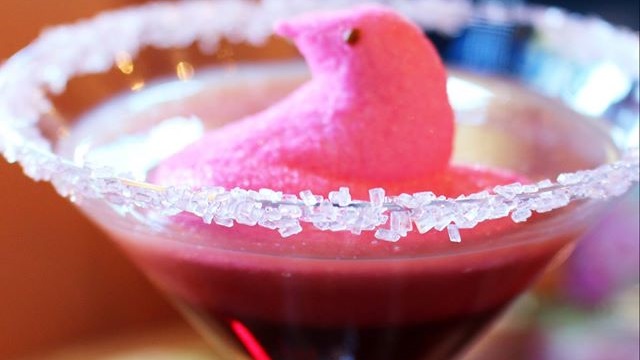 TO SAY A PLACE HAS FLAVOR... is to claim that a location's unique liveliness and look makes it a standout among destinations. Not every spot can make such a claim, but a hotel that's found near the 101, in San Luis Obispo, pretty much has the whole characterful, colorful thing locked up, and how. We speak of the Madonna Inn, a stayover icon that's been welcoming weary road-trippers with a host of themed rooms for well over half a century. Those themed rooms run the eye-popping gamut, from the much-written-about Caveman Room (with rock walls and all) to rooms themed to the Old West, carousels, golf, horseback riding, and the Alps. It fits, then, that the seasonal offerings in the hotel's Silver Bar would match these bed-filled marvels in spirit, in hue, and in panache. Look to a recent springtime favorite, the Peep Tini, which is back at the Madonna Inn for a third year. The Easter-themed adult beverage absolutely has a wee marshmallow bird floating in the middle, and a pink-rosy hue to complement the pink-everything Gold Rush Steakhouse, which is just steps away from the Silver Bar. That is pink sugar you see on the rim, because Madonna Inn Pink Sugar is an official foodstuff of the effervescent hotel, and also the spot-on sweet addition for the perfect spring cocktail. Want to know what goes into the Peep Tini, which boasts a fresh recipe for 2016?
HERE'S THE RECIPE, straight from the Madonna Inn. Take 3 parts Chambord Vodka, 1 part Limoncello, a half part lemon juice, and 1 part Chambord. You'll want to serve it in a martini glass, with a rim doused in a hefty amount of Madonna Inn Pink Sugar. The final touch? The floating Peep, of course. If you're wondering where one might procure Madonna Inn Pink Sugar, well... at the Madonna Inn, of course, or via its online store.
SO WHAT'S THE PINKEST ROOM... on the expansive property? The one to stay in, to match the Peep Tini you enjoyed in the bar? We'll vote Carin, or perhaps the Madonna Suite, two beautiful and over-the-top spaces that are truly colorful California classics.
Copyright FREEL - NBC Local Media