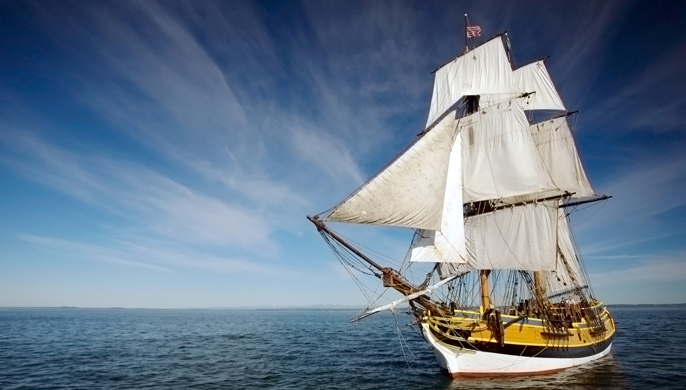 THE FUNNY THING... about historic ships from a certain era is this: They're historic, as mentioned, but they've grown into symbols of fantasy, too. Yes, big-masted, ye olde timber'd vessels did roam the seas a couple of centuries back, but mermaids and narwhals and fairy princesses and witches were not involved in their journeys. (We don't think.) And yet visualize any 18th-century galleon today and you're likely to see it set in some adventure story with fantastic -- as in fantasy-filled -- or supernatural overtones.
TAKE... the Lady Washington, a tall ship replica based very authentically on the great ocean-roamers of yore. While she was built and is based in Washington State, you'd think her address could well be Tinseltown, given her appearances in "Pirates of the Caribbean: The Curse of the Black Pearl," "Star Trek Generations," and "Once Upon a Time" (yep, she be Captain Hook's pride and sail, arrrr). It's charming, indeed, that this history-bound replica has a way of cameoing in the sci-fi-iest and paranormalist of properties. But, if you are looking for some straight-up sail action, and to learn more how these vessels operated over two centuries back. You're in luck. And you're heading for...
MOSS LANDING... where the Lady Washington has docked. She's calling upon the Golden State's shores from Friday, Nov. 8 through Sunday, Nov. 17. Not "docked" docked, though; there are adventure sails to join, and on-board tours, too. You could even pick up the lyrics to a sea shanty or learn how to get a sail up in no time (oh so important when you had to catch wind). And, yes, while the Moss Landing visit is very historical in nature, you can show up in your Captain Hook curls and tri-corner, if you wish. Just leave your crocodile and his swallowed clock at home, please.
Copyright FREEL - NBC Local Media