An experienced hiker a friend called a "bad ass rock climber" fell to his death in Yosemite National Park, just hours after proposing to his girlfriend during an earlier climb.
Brad Parker's girlfriend, Jainee Dial, had accepted his marriage proposal Saturday after the couple reached the top of Cathedral Peak.
His father, Bill Parker, said his son told him that it was "the happiest day of his life,'' the Santa Rosa Press Democrat reported Tuesday.

Later in the day, the couple separated as Parker went on a solo climb of nearby Matthes Crest, a ridge of upturned rock about three miles from Cathedral Peak.

But Parker never returned to his new fiancee.
Other climbers witnessed Parker fall about 5:45 p.m., Yosemite Park Ranger Kari Cobb said. Parker, 36, had gone climbing alone and without ropes and fell on an established route, Cobb said.

Park rangers hiked in and located Parker's body. Parker's death was the second climbing death in Yosemite this year, which Cobb noted was the typical annual average.

A resident of Sebastopol, California, Parker appeared on a cover of California Climber magazine in 2012. He also worked as a yoga instructor and was an avid surfer and mountain biker. He also enjoyed backpacking and fly fishing trips in the Sierra Nevada with his father and good friend that he considered a brother, Mat.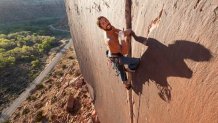 "He was the nucleus of a community of adventurous people out here," Parker's longtime friend Jerry Dodrill, 41, a photographer, told NBC Bay Area on Tuesday. He and Parker have climbed Matthes Crest – the spot where Parker asked Dial to be his wife – on several occasions. The two also scaled a wall near the Moab desert in Utah last May. Dodrill snapped the camera from above, capturing Parker climbing in jeans and gloves. A huge smile was plastered on Parker's face.
"He was a bad ass rock climber and surfer," Dodrill added. "And he did it all with grace and dignity."

Dodrill said he and Parker were scheduled to climb on the High Sierra this weekend. Instead, Dodrill will attend one of several memorials for his friend Saturday.
He told NBC Bay Area that Parker had been dating Dial, a yoga instructor and digital media producer, for a little more than a year.
Dodrill took several pictures of Parker rock climbing, as well as a portrait of Parker and Dial on Dial's phone that she posted on her Facebook page late Monday. In the photo, a bare-chested Parker dangles his arm over Dial's shoulders, huge white smiles on both of their faces. Dodrill captured the two again last August walking arm in arm on Driftwood Beach in Jenner, California.
Friends were posting messages to Dial after her fiance's death, remembering Parker as one of the "best people" they had ever known.

Parker's father told the Press Democrat he thinks fatigue from the climb up Cathedral Peak and the run his son made to Matthes Crest may have been a factor in the fall.

"We're all so stunned," Bill Parker told the newspaper. "What happened is so unbelievable."

About 150 people attended an impromptu vigil for Parker Monday night in Sebastapol, Dodrill said. The climber's father said some family and friends planned to hike to the Cathedral Peak area Tuesday.
"It's the only closure we're able to get,'' Bill Parker told the newspaper.
The Associated Press contributed to this report.