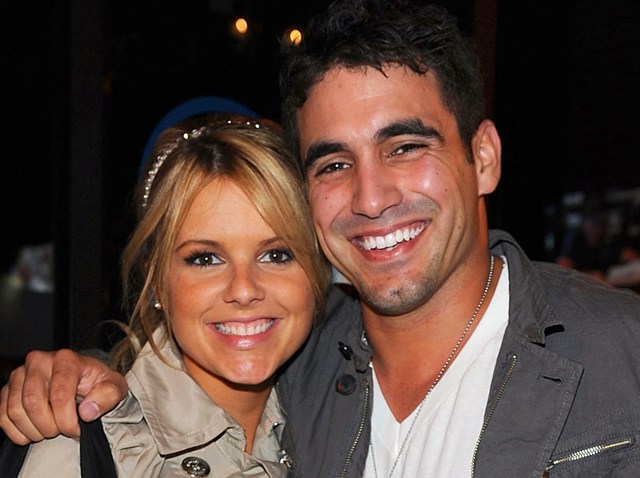 Ali Fedotowsky may have found love with Roberto Martinez, but she hit a bump in the road, in the form of an injury to her leg.
The "Bachelorette" no more had to postpone her wedding due to surgery she had last month after sustaining an injury to her femur, People.com reported on Wednesday.
VIEW THE PHOTOS: Access Top 10: Most Shocking 'Bachelor' & 'Bachelorette' Moments!
"We had a date set, and that date has now passed," Ali told the website. "The decision to postpone [the wedding] was very difficult. I definitely shed some tears."
Ali said she had no choice but to postpone the big day.
VIEW THE PHOTOS: Hollywood's Smokin' Hot Couples
"I want to walk down the aisle," she said. "I don't want to limp down the aisle."
The reality star didn't mind too much as the couple spent the undisclosed day they would have married on together. Besides, she already feels like they are husband and wife.
"In my mind, Roberto is my husband," Ali noted. "We live together; we do everything together; we plan for the future together; we fight just like a good old married couple. The only thing that's not saying 'I'm married' is another ring on my finger and a piece of paper."
VIEW THE PHOTOS: 'Bachelorette' Beauty Ali Fedotowsky
In related Ali news, it was announced back in April that the former "Bachelorette" will co-host a new series on The Style Network, alongside Vivica A. Fox and Adrianne Curry.
Copyright 2011 by NBC Universal, Inc. All rights reserved.
This material may not be published, broadcast, rewritten or redistributed.
VIEW THE PHOTOS: From On-Set Romance To Real-Life Love: Hollywood's Hottest Co-Star Couples!
Related Content from AccessHollywood.com:
PLAY IT NOW: 'Bachelorette' Ali Fedotowsky On Her Wedding Plans: 'I'm Ready For It To Happen!'
PLAY IT NOW: Inside 'The Bachelorette' Finale: What's Next For Ashley & JP?
More from Access: [ Ali Fedotowsky The Bachelorette Vivica A. Fox ]
Copyright NBCAH - Access Hollywood