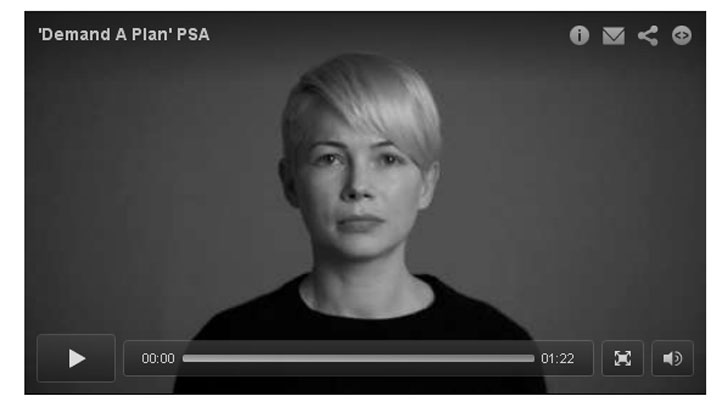 One week after the tragic school shooting in Newtown, Conn., and on the same day the National Rifle Association called for armed guards in schools, a celebrity-laden PSA was released with one simple message: "Enough."
Jennifer Aniston, Jason Bateman, Julianne Moore, Ellen DeGeneres, Paul Rudd, Sarah Silverman, Will Ferrell, Jeremy Renner and Michelle Williams are among the bold-faced names lending their voices to DemandAPlan.org - a partnership between Mayors Against Illegal Guns and survivors of recent mass shootings that was set up in July. Watch the video below.
"How many more?" they ask in the stark, black and white 90-second video. "How many more colleges? How many more classrooms? How many more movie theaters? How many more shopping malls? How many more houses of faith? How many more street corners? Enough. Demand a plan right now."
According to their website, DemandAPlan and their 700,000 supporters "will continue to demand that the President and Congress tell us the concrete steps they will take to prevent 34 Americans from being murdered with guns each and every day. And we will continue to press all of our elected leaders to protect every American's right to safety and security, without living in fear of gun violence."
The video debuted the same day that NRA executive vice president Wayne LaPierre called for armed guards in schools across the country, and blamed the entertainment industry for exposing children to a violent culture through movies, video games, music and television.
"There's the blood-soaked slasher films like 'American Psycho' and 'Natural Born Killers' that are aired like propaganda loops on 'Splatterdays' and every day and a thousand music videos that portray life as a joke and murder as a way of life," said LaPierre during the press conference. "And then they have the nerve to call it entertainment."
Only one day previous to LaPierre's remarks, Chris Dodd, head of the Motion Picture Association of America, issued a statement saying that the movie studios wanted to express "our sympathy as well as our horror and outrage at this senseless act of violence. Thus, I have reached out to the administration to express our support for the president's efforts in the wake of the Newtown tragedy. Those of us in the motion picture and television industry want to do our part to help America heal. We stand ready to be part of the national conversation."