A young bull escaped from a Philadelphia slaughterhouse Tuesday afternoon, leading police on a chase past a city high school and down Interstate 95.
The 550-pound bovine broke free from a truck outside the Saba Live Poultry meat processing facility along the 2100 block of North Hancock Street in the city's Kensington neighborhood around 2 p.m. Tuesday.
"Well when I opened the door the animal took off," Pablo Rosario, the owner of Saba Live Poultry, told NBC10 late Tuesday.
A worker at the plant, who refused to give his name, also told NBC10 that staff were preparing to unload the bull from the truck when it charged them and scampered off.
The man placed blame on the truck driver, saying he failed to properly pull the truck into a loading dock.
The animal then began a more than 4-mile trek through several city neighborhoods and onto two highways.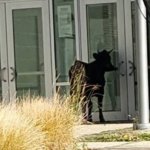 One of his first stops was at Kensington High School along East Cumberland Street. Witness Pete Colon said the bull darted in front of his car before walking up to the school.
"He stopped at the doors and looked at his reflection in the glass, then ran toward Thompson Street," Colon said.
"I did not believe my eyes," said Karen Harr, who spotted the animal as it ran loose in Fishtown. "I did not believe what I was seeing. I pulled over at this fire hydrant and that's when it ran right by me straight up Commerce Street to Delaware Ave. I was afraid of it charging my car."
The bull then made its way onto the northbound lanes of Interstate 95, heading against traffic.
Stunned drivers stopped their cars as the scared steer meandered through the jam.
A woman, who did not want to give her name, said at first she thought a horse was running at her car.
"[I] thought it was going to trample over and smash me and my car," she said after tweeting a photo of the bull staring at her through the windshield.
From there, the bovine made its way back onto city streets in Chinatown. It ducked into some brush and trees next to the Interstate 676-95 interchange at 7th and Vine streets. Police and state conservation officers cornered him there.
Concerned about the public's safety, a Pennsylvania Game Commission conservation officer fired on the animal three times using a 12 gauge shotgun, killing it.
"In an extreme situation, in an emergency situation, for public safety, we chose to put it down," Pennsylvania Game Commission conservation officer Jerry Czech said.
No humans were injured in the incident, police said.
Escaped Bull Killed By Police