When Cosmo DiNardo showed up to an open house at Holy Ghost Preparatory School, his alma mater, last October, school administrators noticed he was acting odd.
The event, designed to attract potential new students, did not include the 2015 graduate as part of the program.

School spokesman William Doherty wouldn't elaborate on what exactly transpired that Sunday other than saying, "the behavior was enough for us to be concerned."
When he was asked to leave, DiNardo became disruptive and police were called.
Doherty said the school filed a police report and called DiNardo's parents, Antonio and Sandra DiNardo, to let them know Cosmo was banned from the prep school's Bucks County campus.
The incident at Holy Ghost Prep coincides with a separate episode at a Montgomery County college that resulted in his banning from that institution.

The new information about DiNardo's past continues to paint a picture of a troubled young man who graduated to the murders of four men he admitted to shooting and burying on his family's sprawling rural estate in Solebury Township, according to authorities. Three of the bodies were doused in gasoline and lit on fire inside what was described in court documents as a "pig roaster."

DiNardo, who has been diagnosed with schizophrenia, was involuntarily committed to a mental institution in the past. The circumstances surrounding that committal remain unclear. He was barred from having a firearm.

Last fall, the 20-year-old was banned from Arcadia University in Glenside, Montgomery County. He spent a semester at the school in the fall 2015 and tried to return the following fall, but school officials said he was not welcome.
A university spokesperson said DiNardo had verbal incidents with members of the university community and made some people uncomfortable. They added that the matter was considered a public safety issue.

DiNardo was informed he would be trespassing if he stepped foot on school grounds, a university spokesperson said. DiNardo and his parents were notified of his banning via a certified letter that was also sent to Cheltenham police.
About half a year after DiNardo was banned, he killed Jimi Taro Patrick, 19; Dean Finocchiaro, 19; Mark Sturgis, 22; and Tom Meo, 21, prosecutors said. DiNardo allegedly admitted to the killings in a confession last Thursday to avoid the death penalty.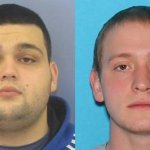 Prosecutors said DiNardo's 20-year-old cousin, Sean Kratz, also participated in the murders. Both have been charged in the case. Kratz's attorney, Abby Leeds, told NBC10 Tuesday that her client is "presumed innocent."
Both remain jailed in Bucks County.
[PHOTOS]Timeline: Murder of Four Young Men in Bucks County, Pennsylvania