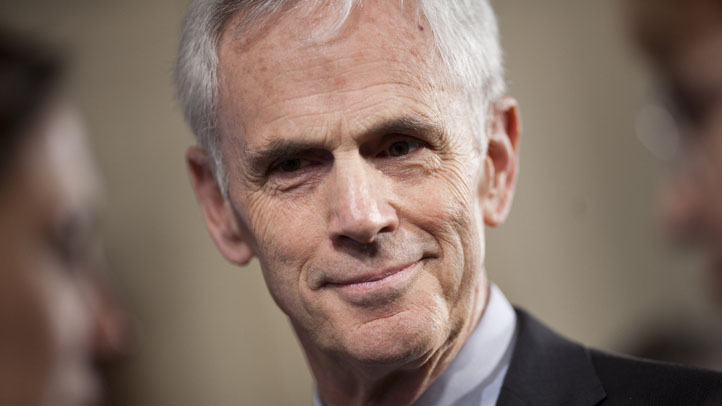 To say John Bryson is the responsible sort is to sort of like saying Kim Kardashian is a little bit of an exhibitionist.
Which is why the U.S. Secretary of Commerce, a longtime San Gabriel Valley resident, deserves the benefit of the doubt after he was involved in three crashes in five minutes on a stretch of road in San Gabriel and Rosemead this weekend.
Bryson's office said he had a seizure as a way of explaining the succession of accidents. And police say he passed a Breathalyzer, according to an LA Times account. The incidents, which involve two collisions with one car in San Gabriel and then a third collision a few minutes later in Rosemead, remain under investigation. And Bryson could face charges of felony hit-and-run, police have said.
The events were seized upon by some in Washington, with Karl Rove's political action committee issuing a tweet suggesting he had been drinking. (The PAC later retracted it).
I, for one, would be surprised if Bryson's medical explanation of the accidents didn't prove to be the accurate one. (Another LA Times story seems to support that explanation, noting that Bryson had uncharacteristic trouble with a speech last week, two days before the accidents).
I've known Bryson since I was in high school (I attended the same school as his daughters did), and have had occasional dealings with him as a reporter.
I've known him as the steadiest kind of person -- the kind others go to for help. Professionally, he's best known as an environmentalist (one of the founders of the National Resources Defense Council) turned utility executive, who served as chairman of Edison International, the parent company of Southern California Edison (which is based in Rosemead not far from the second crash), for 18 years.
He literally kept the lights on (except during the rolling blackouts more than 10 years ago -- a time when he came in for huge criticism, much of it deserved) for Southern Californians.
Bryson himself hasn't spoken out, but I suspect he will soon, with an apology and a lot of gratitude that he didn't kill anyone or himself.
Lead Prop Zero blogger Joe Mathews is California editor at Zocalo Public Square, a fellow at Arizona State University's Center for Social Cohesion, and co-author of California Crackup: How Reform Broke the Golden State and How We Can Fix It (University of California, 2010).
Send us your thoughts via Twitter @PropZero or add your comment to our Facebook page.