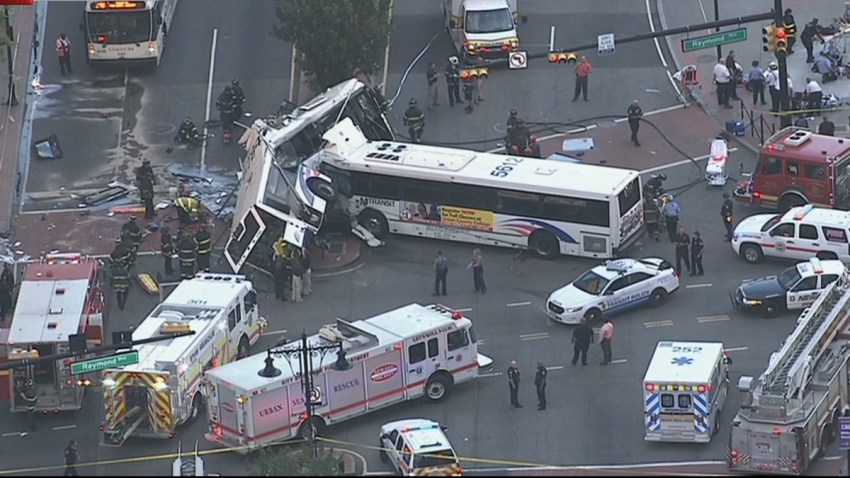 What to Know
Newly released video offers a new perspective on the NJ Transit bus collision that killed two people last month
The video shows bus no. 59 colliding straight into bus no. 13 on Broad Street
NJ Transit says it's still investigating and hasn't concluded what caused the crash
Newly released video showing the horrific t-bone crash of two New Jersey Transit buses in downtown Newark last month is offering a new perspective on the crash that killed a bus driver and a passenger.
The crash happened near Military Park, at the intersection of Raymond Boulevard and Broad Street, just after 6 a.m. on Friday, Aug. 19. Video from nearby NJ Transit light-rail cameras shows NJ Transit bus no. 59 heading west on Raymond Boulevard, then crashing right into the side of bus no. 13 on Broad Street.
The force of the crash killed 70-year-old driver Joseph Barthelus and 49-year-old passenger Jesy Garcia, and injured 17 others. Many were carried off the bus by witnesses who rushed over to help.
"We ran down here trying to pull people out of the bus, guys climbing in through the roof of the bus, breaking the windows, trying to pull out some people," witness Khalil Smith told NBC 4 New York at the time. "But we couldn't get some out, they were smushed in between the seats."
Investigators haven't said what caused the collision but possible causes include speed, mechanical failure or a medical emergency that made it impossible for Barthelus to stop at the red light.
Witness Anthony Castiglia said previously, "He flew by me, like he was driving on the highway, that's how fast he was going."
Garcia, a mother and grandmother, was on her way to the factory where she worked.
NJ Transit officials said Tuesday they are still investigating and they still haven't concluded what caused the crash between their two buses.