What to Know
Four NYPD officers shot and killed a man who they said pointed a metal pipe at them in Crown Heights Wednesday
The officers were responding to a shots-fired call when they encountered the man, who turned to them with the pipe in his hand
The shooting death sparked outrage in the neighborhood, with angry residents shouting "black lives matter" and "stop killing us" at police
UPDATE: NYPD Releases New Surveillance Clips, 911 Call Transcripts in Deadly Shooting of Pipe-Pointing Man in Brooklyn

Police shot and killed a man holding a pipe in Brooklyn on Wednesday afternoon after callers reported a suspect pointing what appeared to be a gun at people on the street.
NYPD Chief of Department Terence Monahan said that four officers -- three in plain clothes, one in a department uniform -- responding to three calls about a possibly armed man in Crown Heights found him at Utica Avenue and Montgomery Street about 4:45 p.m.
Monahan said the man "took a two-handed shooting stance and pointed at the officers," who in return fired a total of 10 shots.
After the shooting, the officers approached to administer aid, Monahan said. It was then that they discovered the man, later identified by the NYPD as Saheed Vassell, 34, of Brooklyn, had not been holding a gun, but a pipe with a knob at the end. Vassell was taken to Kings County Hospital, where he was pronounced dead.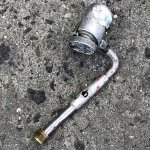 "This was not an EDP (Emotionally Disturbed Person) call... this was a call of a man pointing what 911 callers felt was a gun at people on the street," Monahan said. "When we encounter him, he turns with what appears to be a gun at the officers. We have to stay straight on the facts with this incident today."
None of the officers were wearing body cameras at the time of the shooting, but Monahan held up surveillance photos from the scene that showed Vassell pointing an object at people walking by beforehand.
Another surveillance image obtained by News 4 clearly shows Vassell pointing the silver pipe at a person on Utica Avenue in the middle of what appears to be a running stride.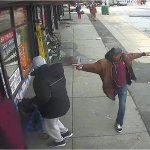 Witness Jack Hinds said he saw three officers pull up to the scene in an SUV around the time of the shooting and block off traffic. Seconds later, he said, shots started flying.
"All you saw was the torch coming out of the gun," Hinds said. "Boom, boom, boom, boom, boom, boom, boom, boom, boom."
He said after the officers shot Vassell, one of them walked up to him and poked his chest with the weapon.
"It's almost like they did a hit," Hinds said. "They didn't say 'freeze,' they didn't say 'put your hands up,' they didn't say 'stop for a minute.' They just started shooting."
Other witnesses said Vassell was well-known in the neighborhood. They added that he had a mental illness but was not dangerous.
"He talks to himself," said one person. "He shouldn't be shot."
Andre Wilson told the Daily News he had known the man for 20 years and described him as a quirky neighborhood character.
"The officers from the neighborhood, they know him," Wilson said. "He has no issue with violence. Everybody just knows he's just mentally challenged. This shouldn't have happened at all."
After the shooting, dozens of Crown Heights residents crowded around police lines, some apparently angry. Later, residents could be heard shouting "black lives matter" and "stop killing us" at officers at the scene. But the crowd remained peaceful and dispersed later on Wednesday.
Wednesday's shooting comes amid nationwide uproar over the fatal police shooting of an unarmed black man, Stephon Clark, in Sacramento, California. In that case, officers responding to a call about someone breaking windows shot and killed the 22-year-old Clark in his grandmother's backyard.
Officers said they fired their weapons because they believed Clark was holding a gun, though he was holding only a cellphone.
[NATL] Top News Photos: Pope Visits Japan, and More
Copyright AP - Associated Press