Vivian and Edward are together again.
Julia Roberts, 47, and Richard Gere, 65, appear together with two more former cast members of "Pretty Woman" and its director on an episode of "Today" set to air on Tuesday, March 24, one day after the 25th anniversary of the hit 1990 rags-to-riches romantic comedy.
In a sneak peek video posted on the NBC morning series' website on Wednesday, it's hugs all around for the actress, Laura San Giacomo, 52, also known as the star of "Just Shoot Me!," Hector Elizondo, 78, also known as Joe in "The Princess Diaries," and director Gary Marshall, 80. The men, including Gere, are also seen chatting and laughing together.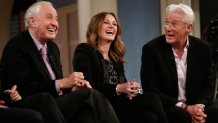 NEWS: Julia Roberts returns to Pretty Woman hotel, gushes over ''hot'' husband
"Pretty Woman" marked Roberts' most iconic role, launched her into international stardom...and inspired Halloween costumes and party clothing for decades.
In the movie, a modern take on the classic Greek myth Pygmalion, Roberts plays Vivian Ward, a prostitute with a heart of gold (and lots of sass!) who falls in love with a wealthy businessman, Edward Lewis, played by Gere.
He hires her as an escort for a prolonged period of time and she stays in his luxurious hotel suite, where she gets to not only have sex with him, but also rock out to Prince while taking a relaxing bubble bath.
Meanwhile, hijinks ensue when her new, handsome, wealthy client helps transform her, physically and mentally, into a respectable lady of society.
NEWS: Full House reunion! Watch Bob Saget, Lori Loughlin, John Stamos and more stars sing the show's theme song
San Giacomo played her friend and fellow prostitute Kit De Luca. Elizondo portrayed the compassionate hotel manager Barney Thompson.
Roberts and Gere have reunited before. They played love interests in the 1999 romantic comedy film "Runaway Bride," which also starred Elizondo and which Marshall also directed. "Seinfeld" alum Jason Alexander, who played Edward's shady lawyer in "Pretty Woman" and did not appear in the "Today" reunion, also starred with Gere in the 2009 film "Hachi: A Dog's Tale."
The "Pretty Woman" 25th anniversary reunion will air on "Today" on Tuesday March 24.
Copyright E! Online