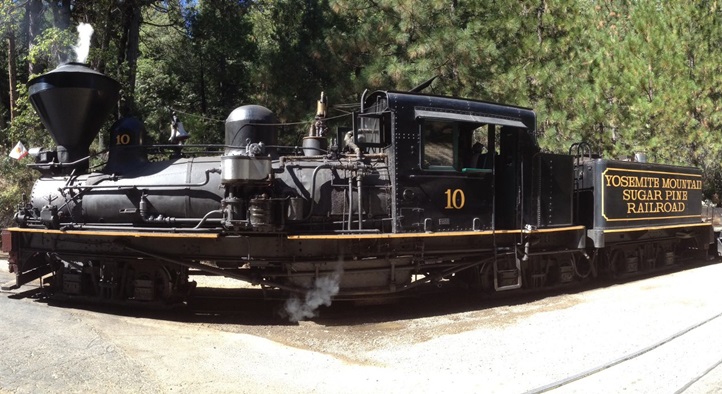 CHARM ON THE RAILS: The Golden State happens to be home to quite a few historic trains, many of which have monikers that are almost movie-worthy. Well, there is the "Movie Star Train," in fact, in Gold Country -- so named because it appeared in dozens of early films -- and there's the Skunk Train, which keeps a certain stinky-sweet critter as its popular symbol (that's in Fort Bragg, but you probably know that). But the Yosemite Mountain Sugar Pine Railroad has a name that's straight out of an 18th-century yarn, a tale filled with adventure, campfires, and exploration. It's real, not fictional -- you'll find it near the south gate of its namesake national park -- and the adventure and occasional campfires are real, too.
NIGHTTIME RIDES: And matters get a mite more book-like come summertime, when the train heads out on its Moonlight Special runs. They're every Wednesday and Saturday during the warm-weather months and they involve a few flavorful things: a steak BBQ dinner, live music, which includes old-timey tunes from the rails, and a ride on the Logger Steam Train. There's a campfire to cozy up to (if one can actually do that on a summer night) during a Lewis Creek Canyon stop, and then a return trip back. Yep, the Moonlight Specials are popular, all righty, so you want to book your ride ahead of time.
OR... Just try out the Yosemite Mountain Sugar Pine on a daytime trip. It's a four-mile trip that wends through the Sierra National Forest. Nope, it doesn't go into the famous valley, but you'll see lots of nature as you chug-chug along.
Copyright FREEL - NBC Local Media