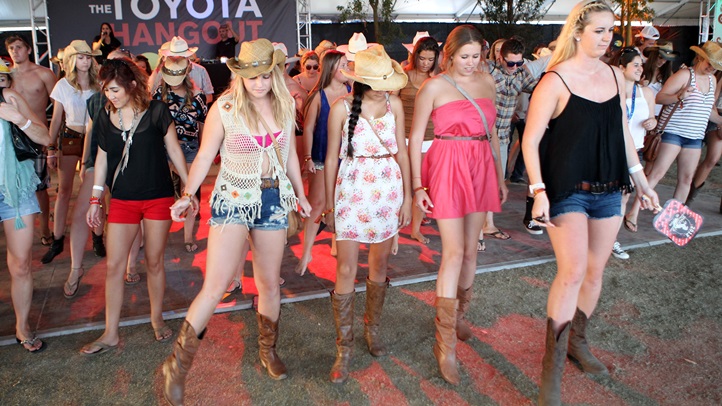 MUSIC AND MORE: There's always a "more" part to a major music festival. When something is more than one day -- heck, when it is more than a few hours -- festival attendees expect that there will be goings-on off the stage in addition to what's happening concert-wise. Coachella Music & Arts Festival delivers on this with a cornucopia of artsy to-dos, and San Francisco's Outside Lands serves up a whole beer- and wine-tasting element. And Stagecoach, which clip-clops into Indio from Friday, April 26 through Sunday, April 28, has its own flavorful elements, from dance-it-all-out country DJs to a showing of Clydesdales. But expect nothing less from a fest billed as "California's Country Music Festival."
GORGEOUS HORSES: The famous equines are one of the headlining attractions off the music stages. They'll make an appearance at the RV Resort on Friday, April 26 in the morning and in the lobby on Saturday and Sunday. There are artists signings at the Zia Record tent, the aforementioned DJs spinning kick-up-your-bootery-type tunes, and a Ferris wheel, too. What would the big desert festivals be without their Ferris wheel? Seen in a thousand Instagrams, it is now one of the symbols of a Coachella Valley spring.
AND THE LINE-UP: If you're just out for the music, here you go: Toby Keith, Hank Williams, Jr., Lady Antebellum, Dierks Bentley, Darius Rucker, and Dwight Yoakam are just a few of the bold-print names, but, given that this is a three-dayer, you'll a veritable country-style buffet of sounds is assured. So, what to do? Stick solely to tunes or ride the Ferris wheel a few times? At a major music festival, there's usually time for everything.
Copyright FREEL - NBC Local Media