Shock, disbelief and sadness – these three words describe the thoughts going through the minds of those who knew Misty Holt-Singh best.
The 41-year-old Stockton mother was the only hostage to die in Wednesday's bank heist involving a high-speed chase in Stockton. Police say she was used as a human shield by the suspects, who have gang connections.
Holt-Singh's relatives told NBC Bay Area that Misty left her 12-year-old daughter Mia in the car when she ran into the Bank of the West building for what she thought would only be a minute or so.
After that, all hell broke loose, resulting in the kind of crime Stockton police say they haven't witnessed in recent history.
Holt-Singh's cousin, Stephanie Miller Rodriguez, said that Misty and Mia were supposed to meet her on Wednesday afternoon at a salon in Stockton to get their hair done. But that never happened.
"She and Mia were coming to get their hair done, but she didn't show up," said Rodriguez, who is a professional hair stylist. "I texted her on her cell phone and her daughter texted me back saying that the bank was being held up and that her mom had been taken hostage. I came home thinking she was OK because Mia had her phone, but found out later that she was killed in the gunfire. I've just been in a state of shock since then."
Rodriguez described Holt-Singh as a "beautiful person."
"She loved her family and kids so much," she said. "She came into my life five months ago – we ran into each other and realized we were cousins … It was nice to have a cousin my age. But then we had this relationship cut short so suddenly."
Friends and family have turned Holt-Singh's Facebook page into a virtual memorial site, reminiscing about her as a beloved friend or a favorite classmate from Franklin High School.
"She was always funny and kept people laughing," said Christopher Turner, who was friends with Holt-Singh in high school. "She was loved by everybody. I'm really sad that her daughter had to witness this."
Mia's pictures are all over Holt-Singh's Facebook page, along with pictures of her 19-year-old son in a graduation cap and gown. Her profile picture shows her happily smiling next to her husband, Paul Singh.
Holt-Singh's latest posts talk about taking her kids to Raging Waters, and the newest members of the Holt-Singh family: a puppy and a DeMarini CF7 fastpitch softball bat.
She recently shared pictures of Mia at baseball practice and her sixth-grade promotion and many others of family vacations and celebrations.
The bottomline: Family was really important to Misty.
"Today, a mother, wife, daughter and sister was taken from our family in a senseless tragedy," Holt-Singh's sister-in-law Kumal Sidhu Singh posted on her own Facebook wall. "If there is a bigger plan, I really don't understand. Our hearts are shattered...and our family will never again be the same."
Holt-Singh's sister, Dawn Holt, has set up a memorial fund for her.
"My heart is broken for (your) beautiful family," friend Jammie Lynn Mayo wrote on Holt-Singh's Facebook page. "I don't understand. One thing I do know. Heaven got a little spunkier when you showed up."
At a news conference on Thursday, Stockton Police Chief Eric Jones said at this stage of the investigation, he doesn't know when Holt-Singh died, or who killed her during the spray of bullets - the suspects or officers engaged in battle.
What he did say, however, was that it appears clear that the men who robbed a Bank of the West on Wednesday afternoon appeared set on killing people from the start, looking at the "havoc" they created.
During the roughly hour-long incident, which police described as "reckless and chaotic," three armed men robbed a bank, took hostages, killing one, and attempted to kill numerous police officers in broad daylight, putting the entire city at risk.
"In my over two decades of law enforcement I've never seen or experienced this type of total disregard for human life," Jones said.
Misty Holt-Singh pictured with her children and husband.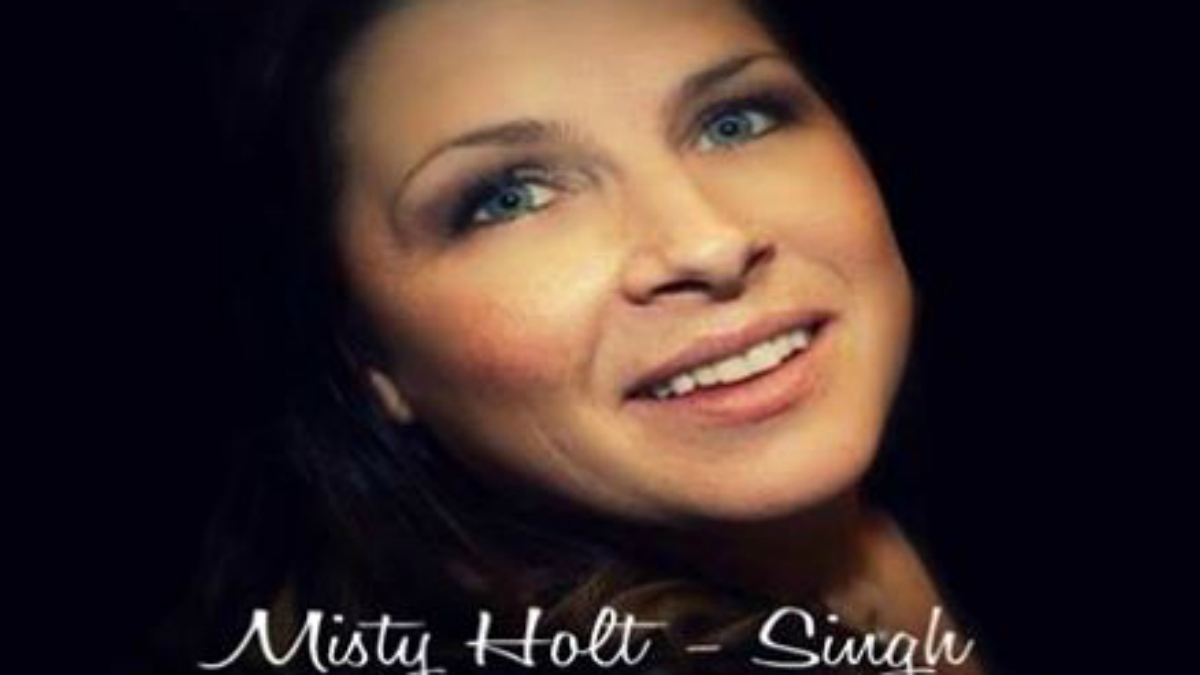 Lucero Benitez contributed to this story.