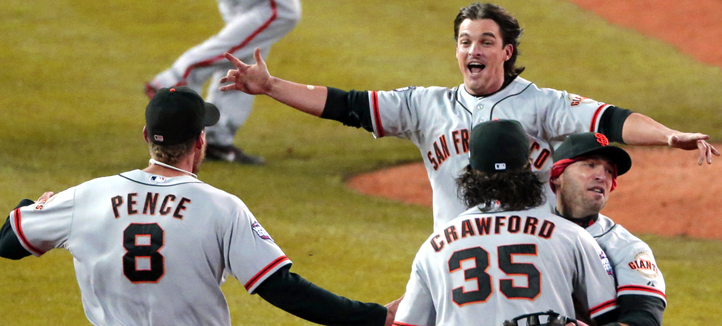 You'd think the Giants would be the favorites with the release of the 2013 World Series odds. After all, um, they did just win the World Series by sweeping the Tigers in grand fashion.
You would be wrong.
In fact, the very Detroit Tigers who got handed the broom in their home stadium are the 2013 favorites to win the World Series, checking in at 6/1 on Bovada.lv.
Behind the Tigers are the Yankees at 7/1. And behind the Yankees are the Giants at 10/1. The Rangers, Nationals and Angels are all at 12/1 after that, and the Phillies, Cardinals, Reds and Braves check in at 14/1.
The hated Dodgers are 18/1 to hoist the trophy according to Bovada.
Of course, this doesn't necessarily mean that the Giants are the third-best team in baseball, nor does it mean the Giants are being slighted despite their championship.
Detroit returns Justin Verlander, Miguel Cabrera and Prince Fielder -- among many others -- that made a title run this year. They'll be heavily bet a lot this offseason.
The Yankees, though they also got swept, are the Yankees. People will always bet on them. The same goes for the Phillies and Dodgers and Rangers. They're high-profile teams that will command bets from the public.
The Giants, oddly, have kind of become one of those teams. With their starting pitching, they're a viable contender for the next few years, even if the offense isn't exactly a dominant unit.
Given the number of potential important free agent defections -- Marco Scutaro, Angel Pagan, Jeremy Affeldt, to name a few -- it's possible the Giants odds could dip even lower in the spring, making them a modest bet at this point at best.