The 49ers' winning formula again was straight out of the 1950s, but executed thanks in particular to a couple of 21st century playmakers.
San Francisco ran the football, won the turnover battle and shut down an opposing running game yet again to beat the Washington Redskins Sunday at FedEx Field in Landover, Md., 19-11.
The victory is the NFC West-leading Niners' sixth straight and their fourth this season in the east, following wins over Cincinnati, Philadelphia and Detroit.
It's the team's longest winning streak since 1997 and the first time the 49ers have started 4-0 on the road since 1992.
Running back Frank Gore and linebacker Patrick Willis proved to be difference-makers.
Gore rushed for 107 yards, his fifth consecutive game over the 100-yard mark, as San Francisco controlled the game's tempo and time of possession (32:19 to 27:41).
Willis not only had nine tackles, but forced two fumbles that were recovered by San Francisco, the first of which was converted just before halftime into the team's only touchdown, a 30-yard Alex Smith strike to rookie fullback Bruce Miller.
Though Willis' tackles are down this season – he ranked just 25th in the NFL going into the game after being among the league's top 10 his first four seasons -- the fifth-year inside linebacker from Mississippi told reporters earlier this week the stats are of no consequence.
On this team, this year, it's all about making plays.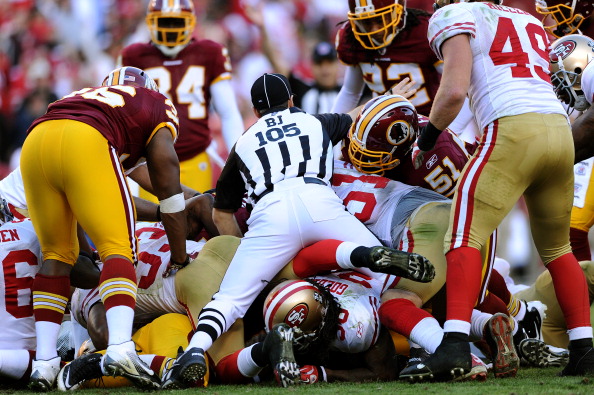 "It's not about the tackles or the stats," he said Thursday. "It's about winning, and that's what we're doing and that's what I'm all for."
San Francisco held just a 6-3 lead with less than two minutes remaining in the first half when Willis stripped the ball from Roy Helu after a short pass from John Beck. Donte Whitner recovered at the Washington 33 and advanced the ball to the 30. Smith then hit Miller to give San Francisco a 13-3 lead.
From there, San Francisco was able to just add two Fred Akers field goals to take a 19-3 lead. That was enough, however, as the Redskins were able to put up just a late TD and two-point conversion on the NFL's stingiest scoring defense (107 points allowed before Sunday).
It was the Redskins' fourth straight loss.
The 49ers' old-fashioned formula included winning the turnover battle 3-1 and holding the Redskins to just 52 rushing yards and no TDs. The Niners haven't allowed a rushing score this season and have not allowed an opposing back to rush for 100 or more yards for 30 consecutive games. Quarterback Alex Smith again was efficient, completing 17-of-24 passes for 200 yards and no interceptions.
Next up for San Francisco are the New York Giants Sunday at Candlestick Park.
Published at 2:12 PM PST on Nov 6, 2011 | Updated at 2:13 PM PST on Nov 6, 2011