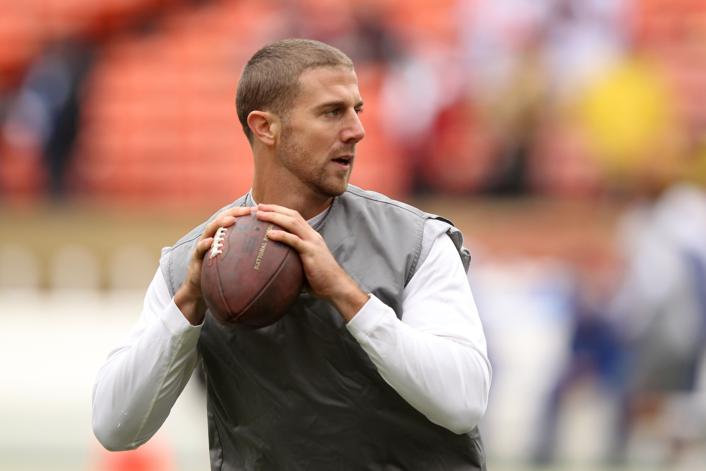 San Francisco 49ers free agent quarterback Alex Smith is meeting with the Miami Dolphins, which could affect the Peyton Manning sweepstakes.

A person familiar with the negotiations confirmed Smith's Miami visit to The Associated Press on condition of anonymity because the team had not announced Sunday's meeting.

San Francisco is among three finalists for Manning, along with the Denver Broncos and Tennessee Titans.

The 49ers had been working to re-sign Smith, the No. 1 overall 2005 draft pick who enjoyed his best season in 2011 under first-year 49ers coach Harbaugh, a former NFL quarterback. Smith and Manning have the same agent, Tom Condon.

The Dolphins' unexpected courtship of Smith came after they were spurned by Manning and then hosted former Green Bay Packers backup quarterback Matt Flynn for a weekend Saturday.

Smith's arrival Sunday morning raised the question whether the Dolphins were trying to pressure Flynn to sign soon. He visited the Seattle Seahawks earlier in the week.

Flynn left South Florida on Sunday morning, but a deal with the Dolphins remained a possibility, said his father, Alvin.

Smith struggled early in his career but threw for 3,150 yards and 17 touchdowns with only five interceptions last season as San Francisco went 13-3 and made the NFC title game after an eight-year playoff drought. He orchestrated six comeback wins, four on the road.

Smith has been weighing a three-year offer from the 49ers.

Flynn was a backup the past four years for Green Bay, where his offensive coordinator was Joe Philbin, the Dolphins' new head coach. Flynn has only two career NFL starts, but in last year's regular-season finale he set franchise records with 480 yards passing and six touchdowns to help the Packers beat Detroit 45-41.
The Dolphins have started 16 quarterbacks since Dan Marino retired and are looking to make another change. While incumbent Matt Moore played well last year, there are doubts he's a franchise quarterback. Chad Henne, who started 31 games for Miami over the past three seasons, signed Wednesday with the Jacksonville Jaguars as a backup.

The 49ers emerged as a contender for Manning when the news surfaced that he worked out Tuesday for Harbaugh at Duke. The four-time NFL MVP also worked out for the Broncos on Friday at Duke, and for the Titans on Saturday in Knoxville, Tenn.

Manning has been rehabbing in North Carolina following a string of neck surgeries, which led Indianapolis to release him.

San Francisco running back Frank Gore, who works out each offseason in Miami, said Sunday he hadn't spoken to Smith. Gore has long supported Smith through the quarterback's up-and-down seven NFL seasons.

Now, Gore and the 49ers are sitting tight to see what happens next.

"It's crazy,'' Gore said. ``I'm waiting for whatever happens. I know coach Harbaugh and (general manager) Trent Baalke feel good about what they're doing.''

Manning's whirlwind free agency tour officially kicked off soon after he bid farewell to the Colts in an emotional press conference.

___

AP Sports Writers Teresa M. Walker in Nashville, Tenn., Joedy McCreary in Durham, N.C., Pat Graham in Denver and Janie McCauley in San Francisco contributed to this report.

Copyright AP - Associated Press