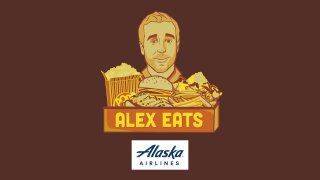 During the 2019 MLB season, Giants Insider Alex Pavlovic took one for the team by tasting some of the unique food options at ballparks around the country.
Not many of the things he ate were healthy.
But on the latest episode of "Alex Eats," Pavlovic got to try some healthy food options that will be debuting soon on Alaska Airlines flights.
"We're trying to make it healthy, fun and flavorful," Alaska Airlines director of community and public relations Oriana Branon said. "We took a trip in coordination with Global SF to Singapore and Hong Kong for Future of Food Innovation Summit. It's all about learning what the future of food is, innovation trends coming down the pipeline so we can incorporate that on board."
The first item that Pavlovic tried was vegetarian bibimbap, which consists of streamed rice, sauteed seasonal vegetables, fried egg and a spicy sweet sauce. This option will be available in First Class on Alaska Airlines flights, according to Branon.
Pavlovic washed it down with a ginger carrot bisque soup.
The last item Pavlovic tasted was the roasted chicken with clementine. The chicken comes on a bed of basmati rice.
Most of Alaska Airlines' healthier food options are part of the Winter 2020 menu and will be available starting on Dec. 16, 2019.
"This is airline food, but it's not airline food," Pavlovic said.
"It's not your tradition airline food," Branon said. "We're pushing the needle here."
Copyright C