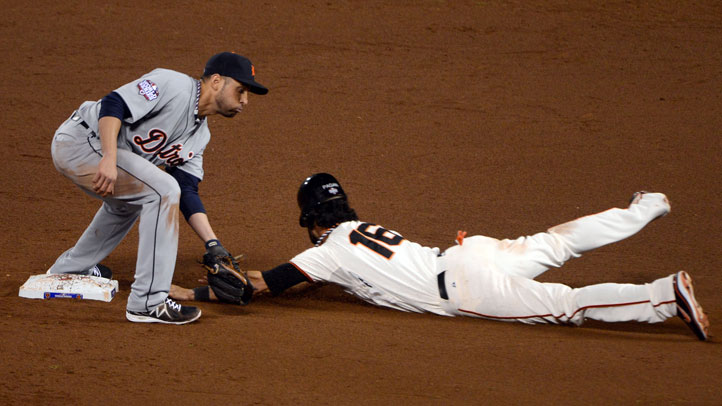 If you're a Giants fan, you enjoyed Angel Pagan's steal in the eighth inning of San Francisco's Game 2 win, as Pagan scored an insurance run for the Giants.
But if you're an American and/or someone who just loves free tacos, you're even happier: Pagan's steal means Taco Bell is handing out a free taco to everyone in America.
It's not just any taco either; everyone in America is eligible for one free Doritos Locos Taco from the Bell as a result of Pagan's steal. You can pick up your taco at your local Taco Bell from 2 - 6 p.m. ET next Tuesday, October 30.
And you can watch Pagan's steal below.
The swipe left the outfielder hungry, too, which is fortunate since he just learned about the promotion. Though I'm not sure he got a taco immediately following the game.
"Actually, bring it over here. I'm hungry right now," Pagan said following the Giants win Thursday. "I just found out about it. I'm pretty happy, but I was just trying to play the game hard. Trying to create a situation for us to score and then, after the game, they told me about it."
Taco Bell's promotion was simply designed to hand out a free taco if someone stole a base in the World Series; it's become almost an, ahem, tradition over the past few years. Jacoby Ellsbury and Jason Bartlett both scored tacos for America during respective trips to the World Series, and now Pagan's done the same.
And in the process, Taco Bell might've found a new spokesperson.
"I love Taco Bell, I do," Pagan said. "Burritos, tacos, you name it. I hope people like it."