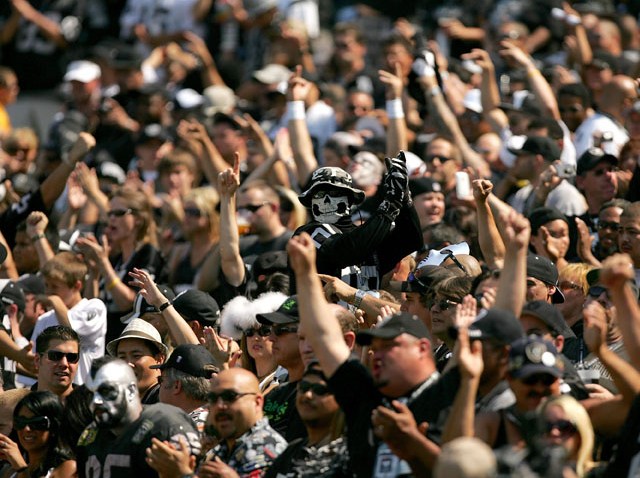 Remember that "Raiders protest" billboard that a disgruntled fan had put up along I-880 this past December? It garnered national attention from ESPN and the NFL Network. But it did not succeed in its stated goal of persuading owner Al Davis to hire a general manager for the Oakland Raiders football organization.
Undaunted, the Raiders mega fan behind the billboard scheme is calling an all-out advertising blitz. Patrick Patterson reports in the San Francisco Examiner that the billboard impresario intends to "launch a new fundraising campaign that will result in not one, but up to 100 billboards of various sizes throughout the East Bay including one immediately across the Nimitz Freeway from the Coliseum."
Whoa, I'm not sure if there even are 100 billboards along 880. One hundred seems like kind of a lot. But with that many of billboards, he could maybe do some sort of "Burma Shave"-style campaign where there eight consecutive billboards would entertain drivers with a little Raiders front office-themed limerick.
The billboard-buying mega fan in question is Jared Staszewski, who actually lives nowhere near California. He lives 2,000 miles away in Erie, Pennsylvania. He didn't even get to drive along 880 to regularly admire his own handiwork while the first billboard was up. But he does probably get more to watch more Raiders home games on television than we do.
Staszewski, who has also purchased a full-page ad in the Oakland Tribune, tells the Examiner that the Raiders front office has not acknowledged his efforts in any way.
"We haven't even got a nod in our direction, and it doesn't look like at the current rate we are going to get anything," Staszewski said. "My new slogan is 'I don't want to do what we are about to do,' but if we don't get any acknowledgment or any improvements or anything of that nature, we're going to take it up a couple notches."
In other words, don't make me buy 100 billboards explaining my administrative recommendations.
They say the definition of insanity is to try the same thing and expect different results. Therefore, the opposite of insanity would be to multiply your first ineffective effort by one hundred-fold, and then expect different results. My thinking is solid here, correct?
Joe Kukura is a freelance writer who insists Al Davis would hire a general manager if he could only find one who runs the 40-yard dash in a 4.3 or less.
Copyright FREEL - NBC Local Media