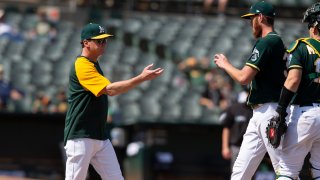 A's have 'everything' to improve on during recent slump originally appeared on NBC Sports Bayarea
It was another loss for the Athletics (70-52) when they fell to the Seattle Mariners, 5-1, on Tuesday. It was their fourth loss in a row and additionally, Oakland has lost eight of their last 10, which pushes them four games behind the Houston Astros (73-52) in the AL West standings.
A's manager Bob Melvin said there's a lot the team needs to improve on after a few tough losses.
"Everything right now. Everything," Melvin said after the game. "Putting too much pressure on every facet that we have right now. Not a lot of room for error. It's a tough stretch we went through. We did not look good today.
"We've lost some close games here recently, we have to flip the switch and start playing like we do," Melvin continued. "We're usually on the other side of those games and this is the wrong time to go into a slump, wrong time to go into a team slump. We'll figure it out."
As far as the game itself, starter Cole Irvin didn't last long. In only three innings, he gave up seven hits and three earned runs without a strikeout. He admitted pitching to the Mariners hasn't been his forte this season.
"They definitely have something on me," Irvin said. "I was tipping with runners at second, I was watching video and I'm still trying to find a good angle to figure out what I'm doing out of the windup. They're taking good approaches against me, they found something that works for them to get on base, so I got to make an adjustment ... they're a good ball club ... they're fighting for what we're fighting for, a postseason berth."
A's shortstop Elvis Andrus has been through some of these lows throughout his career, knowing the grind of the typical 162-game rollercoasters.
The 13-year veteran has played in 42 postseason games of his own, making it as far to the World Series with the Texas Rangers in 2010, and he said the team simply needs to relax.
"It's part of the season," Andes said. "We're not playing our best baseball right now, and we know that as a team. I think sometimes everybody wants to be the hero and wants to be that person, that player that gets this team back on track and when things are not happening offensively or defensively or the pitching staff, we used to be awkward."
"I think as a team we just need to relax, I think tomorrow's day off is right on time," Andrus added.
After the off day, the A's will face the New York Yankees at home for a four-game series.
Copyright RSN