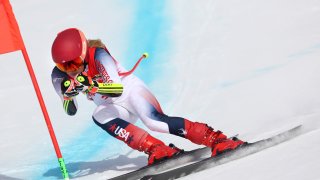 Mikaela Shiffrin is unaccustomed to failure.
Having won three Olympic medals, two of them gold, the U.S. skier is far more familiar with standing on the podium in celebration than sitting dejected on the side of the course in defeat. But that was where she found herself earlier this week after skiing out of her second consecutive event at the 2022 Winter Olympics.
Shiffrin completed her first run of the Games in the super-G on Thursday, finishing ninth, and afterwards bluntly described her performance in Beijing to this point.
"It is failure," she said. "It's OK to say that, I am OK with that. And I'm sorry for it, but I also was trying, and I'm proud of that."
To Shiffrin, more surprising than her performance itself has been the outpouring of support she has received.
"I would never have expected to feel in this moment, severely underperforming in the Olympics, I would have never have felt that humans could be so kind," she said. "It's the most surprising thing of my Olympic experience -- how kind people have been in the face of my failure."
Shiffrin, 26, took to social media Friday to offer support to her fellow Olympians enduring their own failure, heartbreak or what she described as "the striking hurt of defeat."
The message, posted alongside a photo of Shiffrin airborne on the course, opened with the line, "The girl who failed…could also fly."
"It's wonderful to train and compete alongside all of these courageous and incredible women, who have overcome so much in their life, just to get here," Shiffrin wrote. "But being here can really hurt too. There's a lot of disappointment and heartbreak going around in the finish area, but there's also a lot of support. And most importantly, every day there are at least a few spectacular and inspirational performances that we all get to witness and admire."
Beijing 2022 Winter Olympics
Watch all the action from the Beijing Olympics live on NBC
"Sending my love to those who are feeling that striking hurt of defeat," Shiffrin continued later in the post. "Only let it beat you down for a little it, and then you stand up again and throw a few punches back."
Shiffrin entered the 2022 Games hoping to compete in all five individual alpine skiing events. That was in question after her first two events, though she ultimately decided to compete in the super-G, saying afterwards "I proved to myself that I can still trust my instincts a bit."
Shiffrin next will make a decision on whether to partake in Monday's downhill.
"Today was a good day," Shiffrin wrote in closing, "so I'm just gonna let it be that."