The Major League Baseball Network has been handing out the final awards of the 2012 baseball season all week, with the grand finale tonight: the Most Valuable Player.
The National League winner was none other than Giants catcher Buster Posey.
"I couldn't be more honored to have my name alongside the previous winners," Posey said after learning he had won. Get more reaction from Buster here.
The Giants top brass were quick to respond to the award with the following statements:
"On behalf of the entire Giants organization and our fans, we congratulate Buster Posey on this
tremendous achievement. He joins Willie Mays and Willie McCovey as the only Giants to win Rookie of the Year and an MVP award in franchise history. Buster's work ethic, leadership skills and extraordinary talent represent all that is great about our game and what it means to be a San Francisco Giant. This is a proud day for Buster and his family, for the Giants and for our fans everywhere," Larry Baer said in a statement.

"This is a great achievement and I couldn't be happier for Buster. He is establishing himself as one of the premier athletes in baseball today. His leadership and ability to produce offensively and play solid defense behind the plate makes him one of the most exciting and valuable players in either league. I also want to congratulate our entire baseball organization, including Buster's teammates, our scouting and player development staff, our coaches and training staff for the role they all played in helping Buster earnthis special honor," Brian Sabean, said in a statement.
"I'm thrilled that Buster won this very prestigious award. To go through what he's gone through over the past year and then do what he did in 2012, not many people can do that. He's so valuable with the way he catches, handles the staff and hits cleanup while handling all that's thrown at him. He not only has a huge impact on our lineup but a bigger impact with the way that he leads by example and we are extremely lucky that he's a part of our organization. Buster is an exceptionally talented baseball player who has earned this high honor through his hard work, dedication and competitive spirit," Bruce Bochy said in a statement.
Posey was the odds on favorite and an apparent easy pick for the members of the Baseball Writers' Association of America.
Posey received 27 first-place votes and 422 points in the balloting, ahead Ryan Braun of the Brewers, Cardinals catcher Yadier Molina, Pirates outfielder Andrew McCutchen and Padres third baseman Chase Headley.
The writers submitted their ballots at the end of the regular season, so Posey's post-season heroics wasn't taken into account.
Detroits Miguel Cabrera won the MVP of the AL after having a Triple Crown season for Detroit. Rangers outfielder Josh Hamilton, Angels rookie outfielder Steve Trout, Yankees second baseman Robinson Cano and Rangers third baseman Adrian Beltre were the other finalists.
Buster led the Giants to its National League West title batting .336 with 24 home runs and 103 RBIs.


Here are the awards from the week:

American League Jackie Robinson Rookie of the Year Award
OF Yoenis Cespedes, Athletics
RHP Yu Darvish, Rangers
OF Mike Trout, Angels - winner
National League Jackie Robinson Rookie of the Year Award
3B Todd Frazier, Reds
OF Bryce Harper, Nationals - winner
LHP Wade Miley, D-backs
AL Manager of the Year Award
Bob Melvin, Athletics - winner
Buck Showalter, Orioles
Robin Ventura, White Sox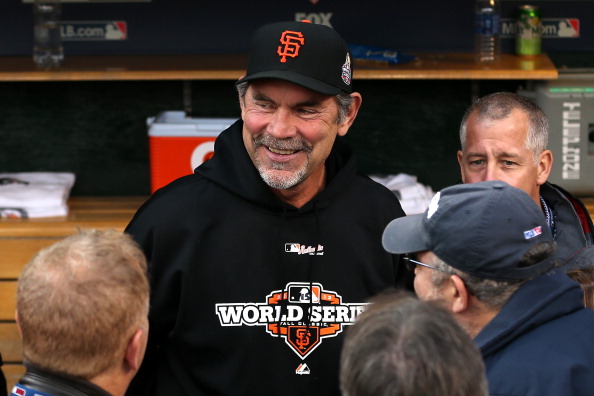 NL Manager of the Year Award

Dusty Baker, Reds
Bruce Bochy, Giants
Davey Johnson, Nationals - winner
AL Cy Young Award
LHP David Price, Rays - winner
RHP Justin Verlander, Tigers
RHP Jered Weaver, Angels
NL Cy Young Award
RHP R.A. Dickey, Mets - winner
LHP Gio Gonzalez, Nationals
LHP Clayton Kershaw, Dodgers
AL Most Valuable Player Award (awarded tonight)

Adrian Beltre, Rangers
Miguel Cabrera, Tigers - winner
Robinson Cano, Yankees
Josh Hamilton, Rangers
Mike Trout, Angels
NL Most Valuable Player Award
Ryan Braun, Brewers
Chase Headley, Padres
Andrew McCutchen, Pirates
Yadier Molina, Cardinals
Buster Posey, Giants -winner