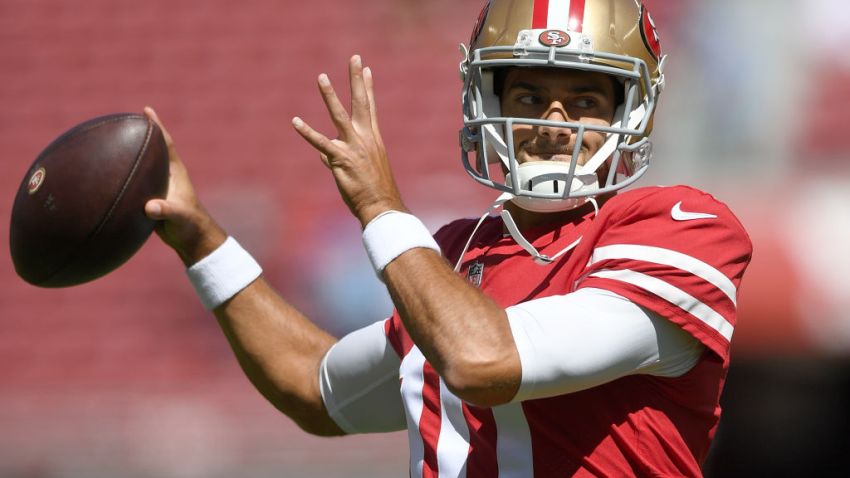 If the 49ers are to succeed in 2019, Jimmy Garoppolo will have to be 100% recovered from last season's knee injury.
For now, he appears on track.
The Niners quarterback, still working to come back from surgery to repair torn ligaments, told Cam Inman of the Bay Area News Group that his rehabilitation is going well. He told Inman he's taking part in the team's offseason program and is throwing, running and making cuts.
"It's a combination of reactionary stuff," Garoppolo told Inman. "That's a big part of it. When you're doing rehab, everything is, 'Do this movement, do this.' Well, in the game, you're more reacting than thinking. Getting used to those movements. We've been doing some of them and patterning them. It's coming along well."
Organized team activities (OTAs) are scheduled to begin May 20, and Garoppolo isn't certain how much he'll be limited. But, he believes he'll be ready for the Sept. 8 season opener.
The more work he can get in, the better he'll be, he says. But he knows that he won't know he's fully fit until he can perform in a game, even if it's an exhibition this summer.
"Practice is practice and you can only replicate the game so much," he said.
The 49ers have been busy building around him in the offseason, through free agency and the draft. The wide receiver corps especially has been beefed up, with veteran free agent Jordan Matthews and second- and third-round draft picks Deebo Samuel and Jalen Hurd.
Garoppolo said he hasn't met either Samuel or Hurd yet, but is excited by having a couple of young, talented players added to the wideout mix.
"I'm learning more and more (about them) each day," Garoppolo said on ESPN's "NFL Live" Wednesday. "It sounded like they came in and had a good rookie minicamp this past weekend. I've been talking to coaches who were out there with them and watching their routes on tape and all that stuff.
"They're two very different receivers, but they'll help us in different ways. It's exciting to have that type of skill coming out of college and both of them look like they can run after the catch very well."