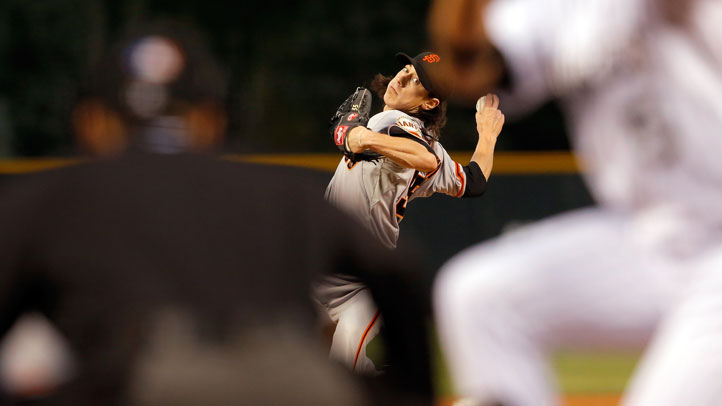 For the first time this season (not counting the part without baseball), Tim Lincecum has an ERA under 5.00.
He got there thanks to a strong effort against the Rockies, going 6.1 innings and not allowing any runs, his fourth-straight quality start against Colorado.
But the best number might be seven, which is now the Giants magic number, since "on the verge of starting a playoff run" is always a good time for Lincecum to start getting his mojo back.
"I feel like I'm getting back to that," Lincecum said, per Hank Schulman of the San Francisco Chronicle. "There's that fine point where you feel like you're going out there and everything just kind of works by itself. I still feel like I'm not at that point yet. I still feel like I'm grinding a little bit, but I feel like those harder situations are easier to get out of."
Obviously Lincecum's success is the sort of thing Giants fans love seeing. And the guys in the clubhouse don't mind either.
"Timmy's tough when he's on his game, and he's on right now," Bruce Bochy said. "It's good for all of us - believe me - when he's throwing like that."
It's weird how it's worked: Lincecum's struggled badly for most of the year while the other Giants pitchers have dominated. As soon as they start to struggle a little bit, well, look who's back.
But "back" is a relative term. Lincecum's not "back" in the sense of looking like a Cy Young winner just yet. That might take some time. The mental game might be harder to deal with than the physical game.
And with the Giants sitting just seven wins (or seven Dodgers losses or some combo therein) of making the playoffs, he doesn't have much time to make sure he's ready for a postseason start. The good news, though, is that Lincecum's trending in the right direction.