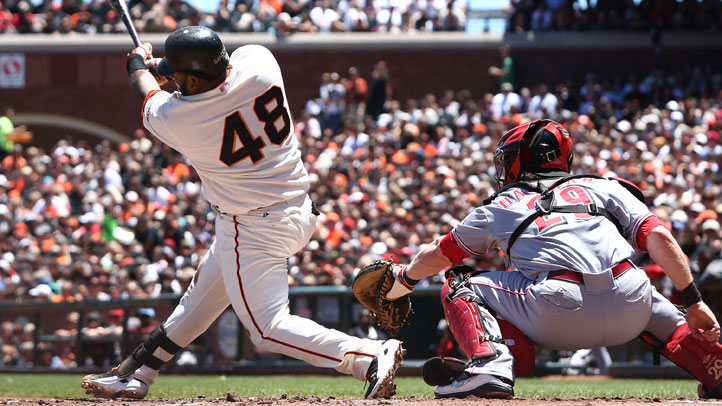 It took to the last day of the regular season, but the Giants learned on Wednesday that they'll play the Reds in the National League Divisional Series.
First pitch is 6:37 p.m. Saturday at AT&T Park.
The Reds and the Nationals were in a dogfight for the No. 1 seed in the National League and with Washington's victory on Wednesday (which also featured the first-ever win in the Presidents' race for one Theodore Roosevelt), the Nats picked up the top seed, regardless of what Cincinnati does on Wednesday night.
With the Giants locked into the third seed, and the Braves and Cardinals set to face each other on Friday in the first-ever play-in wild-card game, only the Reds and Nats were up in the air.
And the Nats victory means the Giants get to face off against a familiar foe: Reds manager Dusty Baker, who skippered San Francisco from 1993 to 2002, when he left to run the Chicago Cubs. Baker won the National League pennant for the Giants in 2002, his final year with the club.
For the season, the Giants finished 3-4 against the Reds, scoring 21 runs and giving up 28.
San Francisco went 1-2 in the first series (in late April), losing 9-2 (against Mat Latos), losing 4-2 (against Bronson Arroyo) and winning 6-5 (against Homer Bailey).
In the next series, in late June, the Giants won 5-0 (Madison Bumgarner pitched a complete-game shutout to beat Johnny Cueto), lost 5-1 (Mike Leake beat Matt Cain), lost 2-1 (Latos again ...) and won 4-3 (Arroyo again).
Cueto and Cain -- two of the top pitchers in baseball this season -- are scheduled to start the series off on Saturday at AT&T Park, with the second game coming on Sunday. Then the series will head back to Cincinnati for the final three games of the five-game series.