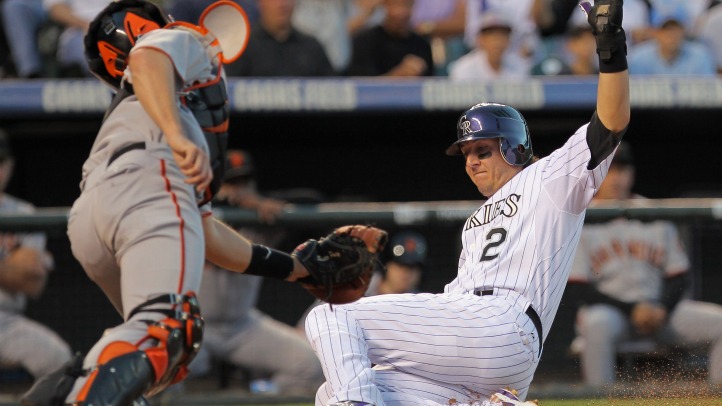 The divisional standings are starting to shape up a bit now that we're a few weeks into the season, and one thing is abundantly clear: the Colorado Rockies are quite good. Notice their 12-3 start, and their four-game lead over the Giants.
That lead can wither to just one game -- or it can bloat up to seven -- depending on the outcome of the three-game series that the Giants play in Colorado beginning on Tuesday. Needless to say, it's kind of important.
Game 1, 4/18, 5:40 PM PST: Tim Lincecum (1-1, 1.86 ERA) vs. Esmil Rogers (2-0, 2.77)
Pitching Edge: Hard to fathom that The Freak is just 1-1 (and Rogers is 2-0!) but those are the breaks of baseball. And, quick aside, why it's absolutely stupid to have wins remain a huge factor in the Cy Young award. But I digress -- this game, as are all Lincecum-pitched affairs, is critical for the Giants.
It's only once, oh, every five days that the Giants can get as close a thing to a guaranteed win as this, and it's critical to take advantage of, especially because Lincecum gets Rogers instead of the Rockies' Ubaldo Jimenez, who had his return from the DL pushed back to Tuesday.
Good news, then, because Timmy's pretty good against Colorado, having posted a 7-5 record with a 3.35 ERA, 1.31 WHIP and 106 strikeouts in his 96 innings pitched against the Rockies. Equally important is the old Coors-Field split, because things are definitely different at that altitude. Lincecum's 3-2 at Coors with a 3.86 ERA, 1.33 WHIP and 52 strikeouts in 49 innings, so there's not too much to worry about.
Clearly you'd prefer he not walk as many batters (21 in that time span) but pretty good stats for such a hitter's park.
Rodgers, interestingly, has never won a game in Coors Field, and that could make things awkward. Additionally, he's only registered 14 innings against the Giants, posting a 7.07 ERA.
In short, this is a game the team needs to win.
Opposing Batter to Fear: Todd Helton, the wily old veteran, has done some damage against Lincecum over his career, posting a .357/.471/.536 line in 28 at bats with one homer, six walks and "just" five strikeouts. Good at bats for Helton mean a higher pitch count for Lincecum and a shorter outing, which is the recipe for a Rockies surprise victory.
Game 2, 4/19, 5:40 PM PST: Jonathan Sanchez (1-1, 3.24) vs. Ubaldo Jimenez (0-0, 7.50)
Pitching Edge: There are a lot of similarities between Sanchez and Jiminez in the way they pitch -- the latter just happened to harness his control and turn into an All-Star-caliber pitcher, while Sanchez still struggles at times.
Jiminez might not necessarily have a huge edge on Tuesday though, because he's likely to be limited in terms of his pitch count, because he's coming off the DL.
But he was dominant against the Giants in 2010, posting a 3.00 ERA and 0.933 WHIP while going 2-2 over four starts and striking out 33 in 30 innings. If he brings his A-game, he'll be tough to beat.
Sanchez, meanwhile, has to have his best stuff against the Rockies ... or at least his 2010 stuff. Over his career, his splits against Colorado aren't great, but last season he went 1-1 with a 1.93 ERA and a 1.179 WHIP. That included six scoreless innings at Coors too, so he knows how to pitch there.
Opposing Batter to Fear: Troy Tulowitzki, who should generally be feared anyway, because he's the early-season MVP leader in baseball right now. Tulo's got a ridic line against Sanchez over his career -- posting a .412/.474/.765 line with a home run and five RBI in 17 at bats. Even more insane? He's never struck out against Sanchez.
Game 3, 4/20, 12:10 PM PST: Matt Cain (2-0, 1.42) vs. Jorge De La Rosa (2-0, 3.18)
Pitching Edge: De La Rosa's had absolutely tremendous success against San Fran over his career, going 6-1 with a 2.79 ERA, 1.09 WHIP and 54 strikeouts in 61 innings, all in just nine starts and 12 total appearances.
Last year wasn't as good for De La Rosa, though, as he just went 0-1 against the Giants in two starts, though he did post a 2.77 ERA, so maybe that's even a stretch. Ruh-roh.
Fortunately for the Giants, Matt Cain's got the qualifications to stomp on that pessimism: he's 11-6 in his career against the Rox, with a 2.94 ERA (over 140 innings), a 1.15 WHIP and a 128 K's. His production against the division rival does spike a bit at Coors, though -- Cain's 4-2 but sees a jump in ERA (3.38) while in Denver.
Last year's breakdown for Cain against the Rockies is kind of silly, though: he went 3-0 in four starts, allowing just six runs over 32 innings. There's precedent here for him to have a monster game.
Opposing Batter to Fear: Tulo's got big stats against Cain, relatively speaking (three homers, 10 K's in 46 at bats) but Ryan Spilborghs had some nice success against Cain, hitting .333/.417/.667 with two home runs, four RBI and three walks in 21 at bats.
Fearless Prediction: Because Jiminez isn't completely ready to pitch following his DL stint, the Giants are suddenly at a huge advantage, as they might have the three best pitching matchups in this series. It won't be pretty, because the Rockies can hit, but the San Fran starters get deep enough into games in order to turn the rock over to Sergio Romo and Brian Wilson, and the Giants sweep to close within one of the division lead.