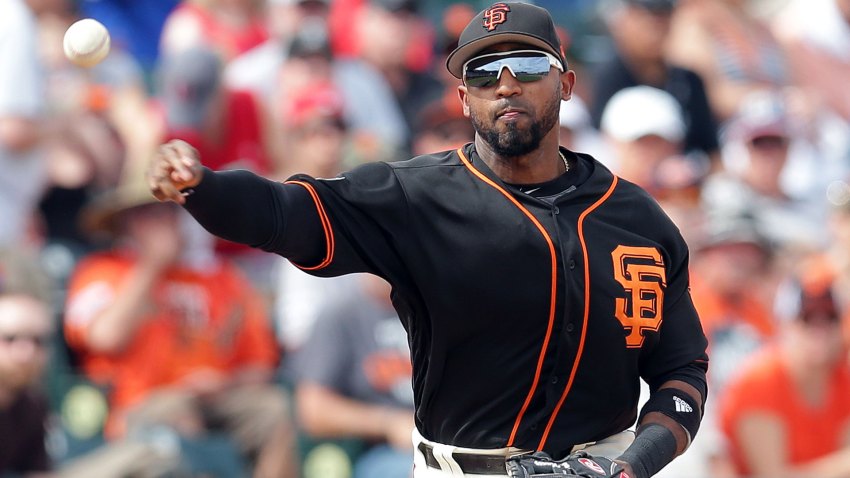 SCOTTSDALE, Ariz. - Buster Posey and Brandon Crawford will return to camp Thursday, show off their WBC championship medals, and then head to nearby Salt River Fields to take on the Colorado Rockies. It'll be a few more days, however, before the Giants have their full infield on the field.
Eduardo Nuñez said he actually got two cortisone shots in his right shoulder, since an MRI this week showed "something" in two separate spots. Nuñez asked for the MRI because, while he was able to play and make strong throws, he felt pain on a daily basis. He might DH this weekend, but it'll be a few more days before he's cleared to begin throwing.
The Giants are hopeful that the shots calm all this down, and Nuñez anticipated being ready for Opening Day. Still, it certainly sounds like this will be a close call. Conor Gillaspie, who is having a huge spring, could get plenty of early time at third. Manager Bruce Bochy doesn't anticipate Nuñez missing Opening Day.
"He should be ready," Bochy said.
The Giants need all the good injury news they can get. It is expected that Will Smith will announce Friday that he's having Tommy John surgery.
ICYMI: From this morning, a feature on George Kontos and his rise over the last few years.
Also, one of the bench candidates, Gordon Beckham, asked for his release. The Giants will soon have to make decisions on Hill and David Hernandez, who have similar retention bonuses due March 28.
GAME RECAP: The Giants played one of their uglier games of the spring, losing 9-2 to King Felix and the Mariners … Matt Moore lasted just 1 2/3 innings, giving up four runs on four hits, two walks, a balk and a wild pitch. It was the same old thing: Moore just all of a sudden lost his command, and because he got up past the 30-pitch mark in the second inning alone, the Giants cut it off. Moore went down to the bullpen and got up to around 80 pitches. He'll make one more start down here, Tuesday against the Cubs ... Joe Panik had a hard double, one of just four hits for the Giants … Chris Marrero hasn't played a whole lot of left field this spring, and he didn't show much to the coaches on a couple of opportunities to throw home. The left field situation remains a mystery.
POSITION BATTLES: Kelby Tomlinson played six innings of left field in a minor league game, and he had to wait until the sixth to get his first and only fly ball. There seemed to be a lot of interest from decision-makers about how Tomlinson fared, and his action today opens up an intriguing possibility. There's a roster permutation that has the Giants keeping just one reserve outfielder (Gorkys Hernandez) and three backup infielders: Conor Gillaspie, Aaron Hill and Kelby Tomlinson, with the latter two being options in left field.
FAMILIAR FACE: Angel Pagan made it through the WBC healthy, and he apparently is drawing interest from the Phillies and Blue Jays. Giants people are confident Pagan will get a big league job somewhere over the coming week.
Copyright CSNBY - CSN BAY