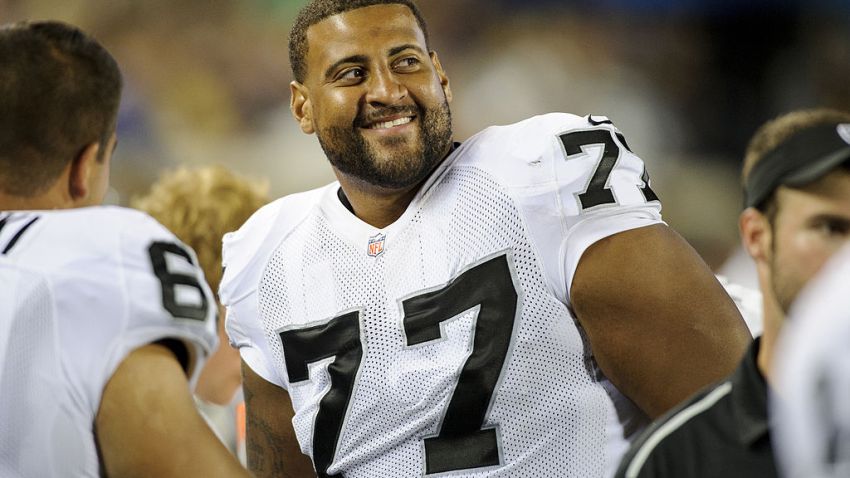 The Raiders went into training camp this summer knowing there would be a terrific battle at right tackle between Menelik Watson and Austin Howard.
Watson eventually won the job, but then went down with an injury. Now Howard is proving once again that the franchise is blessed to have him around.
Howard – just as he did last season – has stepped into the starting spot at right tackle and played terrific football.
Through nine games he's played 59 percent of the team's snaps at the position. Watson has been limited, playing just 55 snaps. Rookie Vadal Alexander also has filled in when Howard himself was dealing with injuries early this season, playing 178 snaps.
Howard, 29, is in his third season with the Raiders and has proven invaluable. He started 16 games in 2014 at right guard, then started 13 in 2015 at right tackle. This year, he's started five. And the 6-foot-7, 333-pounder and former Eagle and Jet showed once again Sunday night in the win over the Broncos that he's playing better than he ever has.
In fact, though Watson was healthy for the game, it was Howard who was given the well-deserved start and came through.
Howard was often assigned to block Broncos outside linebacker Von Miller, perhaps the NFL's best pass rusher. Though Miller got a sack on Derek Carr early in the game, he was largely ineffective because of Howard's work. Miller was in on just two tackles all night in the Raiders' 30-20 victory.
"Not only were Howard and the big men up front able to give Carr ample time to operate for most of the evening, but they were able to limit Miller's effectiveness against the run as well, as the Silver and Black racked up a season-high 218 yards on the ground," wrote Eddie Paskal for the Raiders website.
Howard's work as part of an offensive line that has proven to be dominant this year limited Denver to just two sacks while opening holes for running backs who piled up 218 yards on the ground.
The Raiders are off this week. Oakland returns to action Monday night, Nov. 21, against the Houston Texans in Mexico City.