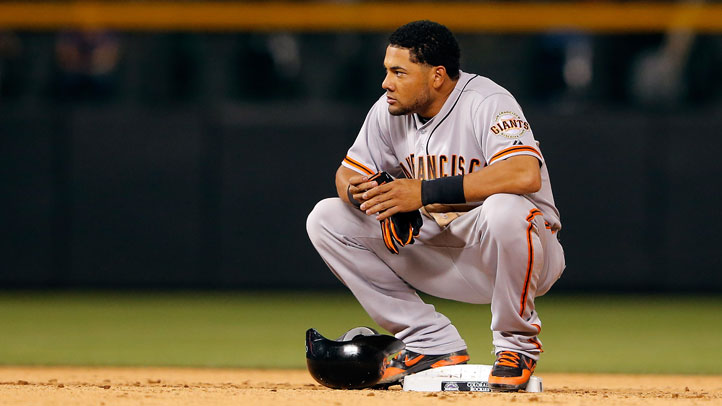 So, you remember that time when Melky Cabrera was busted for elevated levels of testosterone? Yeah, of course you do. We wrote about it once or twice here. You probably also remember he had a fake website created by an "associate" of his agents, Seth and Sam Levinson.
The Levinsons said they had nothing to do with the website, and are maintaining that. But they've got some bad news on their hands now, as Bob Nightengale of USA Today reports that MLB is investigating whether or not the Levinsons helped former MLB player Paul Lo Duca purchase steroids from Kirk Radomski.
It's been proven -- vis-a-vis the Mitchell Report -- that Lo Duca did purchase steroids from Radomski and did so in the super-smart fashion by using a personal check. According to Nightengale, the checks that Lo Duca used were for a joint account between he and Sam Levinson/Aces Inc.
"USA TODAY Sports obtained a copy of one check, showing the names of Lo Duca and Samuel W. Levinson/CO ACES Inc. as joint account holders," Nightengale writes. "The check, dated Aug. 7, 2004, shows the same address as the Levinsons' Brooklyn office."
What's nuts about this is that the Mitchell Report never mentioned this, even though that seems like something that would've been worth investigating, right?
According to Nightengale, Seth Levinson "vehemently denied having a relationship with Radomski" when asked about the checks but "declined to comment on his firm's name appearing on the check to Radomski."
The investigation into this prior relationship apparently stemmed from MLB sniffing around the Levinson's involvement (which they have denied) into Melky's attempt to deceive MLB with his website.
Whether or not they did anything wrong is something we'll probably find out soon -- when a client and an "associate" attempted to trick the folks in charge of baseball, they appear to have poked a potentially very angry bear.