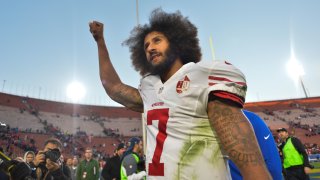 Kap calls for 'abolishing' police after Taylor verdict originally appeared on NBC Sports Bayarea
Colin Kaepernick joined the large number of people inside the sports world to speak out and decry the Louisville grand jury's decision to not directly indict any police officer in the shooting and killing of 26-year-old Breonna Taylor.
On Wednesday after the decision was announced, the former 49ers quarterback tweeted that "the white supremacist institution of policing" should "be abolished."
Kaepernick joined the likes of Steve Kerr, LeBron James, Bubba Wallace, Jimmy Butler and many other athletes who were saddened and outraged by the decision.
On March 13, Louisville police shot and killed Taylor in her own home while serving a no-knock warrant. Taylor's boyfriend, Kenneth Walker, fired one shot because the officers did not identify themselves and he thought they were intruders.
Of the three officers involved in the killing of Taylor, former detective Brett Hankison was charged with first-degree wanton endangerment for shooting into an adjacent apartment. The other two officers were not charged.
Kaepernick has been one of the leading voices against police brutality and systemic racism ever since he took a knee during the national anthem as a form of peaceful protest in 2016.
While Kaepernick has not played in the NFL since 2016, his impact still is felt to this day. NBA and WNBA players have been using their platforms to call for justice for Taylor, George Floyd, Jacob Blake and other victims of police brutality, while taking a knee before the national anthem has become a common practice for many in the sports world who hope to see change in the country.
Copyright RSN