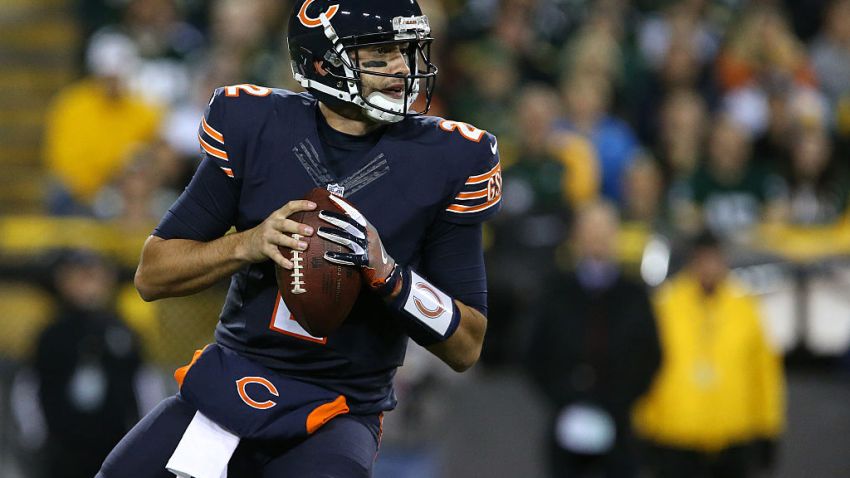 Brian Hoyer may not carry the label of a franchise or Pro Bowl quarterback, but his signing by the 49ers in free agency recently may have been one of the smartest early moves by general manager John Lynch and head coach Kyle Shanahan.
Hoyer can be a solid pro, and his price – a two-year deal worth as much as $18 million if he hits certain incentives – is affordable enough that it doesn't tie the team's hands in filling so many other holes on a thin roster over the next two seasons.
As ESPN.com's Nick Wagoner wrote after the signing, Hoyer can serve "as a bridge" to give the team time to find a long-term solution at quarterback. "And," he wrote, "if something changes and the 49ers do locate that quarterback this offseason, Hoyer would be a strong veteran backup."
With the first round of the NFL draft now just over three weeks away, some analysts still believe the 49ers could use their No. 2 overall pick – or another first-round selection acquired in a trade down – on a quarterback, such as Mitch Trubisky of North Carolina, DeShone Kizer of Notre Dame, Deshaun Watson of Clemson or Pat Mahomes of Texas Tech.
But, there's another scenario, too: Perhaps the 49ers use a mid- to late-round pick on a quarterback prospect to add to the mix (with Hoyer and Matt Barkley), take their chances with Hoyer in 2017 and then draft a quarterback with a top pick next year (when the prospect class is supposed to be better) or bring in a veteran such as Washington's Kirk Cousins or New England's No. 2, Jimmy Garoppolo, who are expected to hit the free-agent market.
As Wagoner of ESPN noted this week, the 2018 draft class has several highly rated prospects at QB, including Sam Darnold of USC and Josh Rosen of UCLA. Other top-rated QBs expected to be available: Mason Rudolph of Oklahoma State, Luke Falk of Washington State and Baker Mayfield of Oklahoma. So, if the 49ers are patient, they could be in a much better position to land a franchise-quality passer if they wait a year, while using this year's draft as an opportunity to fill other key needs.
Said Shanahan to Wagner: "You've got to be smart with what you do and you've got to be patient."