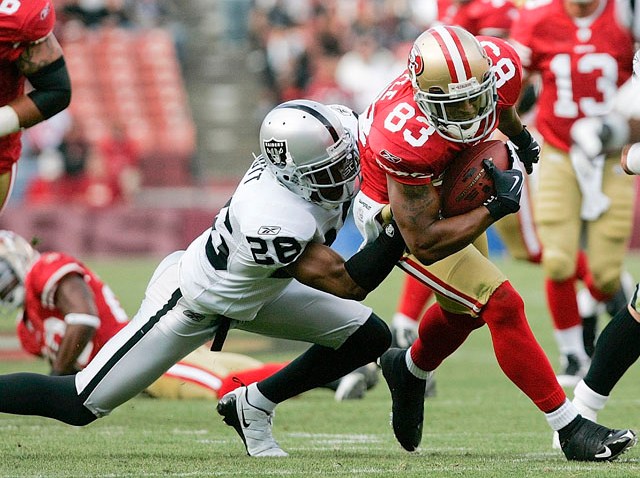 If you've got plans to gather 'round the TV set and watch the San Francisco 49ers take on the Oakland Raiders in Saturday night's preseason Battle of the Bay, you might want to push those plans back a few hours.
Yes, the game starts at 6 p.m. Saturday. But the television broadcast won't start until 9 p.m. Saturday. The game has not sold out and fans will have to settle for a tape delayed broadcast, the Sacramento Bee's Matt Barrows reports.
It gets worse, Bay Area NFL fans -- the game's sideline reporter is J.T. the Brick.
The 49er broadcast is scheduled to begin on CW 44/Cable 12 at 9 p.m. Saturday night, once the game is over. The Raider's version will be on KICU 36.
The game was not sold out 72 hours in advance of kickoff, and therefore cannot and will not be shown live within a 75-mile radius of the Oakland Coliseum. Road trip to Sacramento, baby!
Saturday's ticket sales figures aren't available, but it must not be even close to sold out. The Raiders typically ask for a 24-hour extension in these situations.
This time, they didn't even bother asking.
You think you're screwed by this because those chicken wings are going to take up space in your freezer for an extra three hours? Action 36, who paid for a live game but are stuck with a tape-delayed game, just lost untold tens of thousands of dollars in advertising revenue.
If you would rather spend the 9 p.m.-midnight hours on a Saturday night getting drunk or lucky or stupid-fresh on a dance floor, Action 36 will re-broadcast the game at noon Sunday, and the NFL Network will re-broadcast the 49ers-Raiders game at 8 p.m. PDT Sunday night.
Joe Kukura is a freelance writer who about fell out of his chair when he saw the first, extremely-NSFW link listed on a Google search of the term "Action 36".
Copyright FREEL - NBC Local Media