SAN FRANCISCO — The Giants will open the second half on July 15 at Petco Park, but only three of their stars will spend that entire week in San Diego. Three Giants were named All-Stars on Tuesday, with pitchers Madison Bumgarner and Johnny Cueto joining Buster Posey, who won the fan vote at catcher.
The Giants, who entered play Tuesday with an MLB-leading 53 wins, had hoped to have as many as five players selected, but infielders Brandon Belt and Brandon Crawford were left out. Belt was one of five players chosen for the "Final Vote," which will add one more player to the team via fan voting on Twitter, where Belt's hashtag is #VoteBelt.
Posey trailed St. Louis Cardinals catcher Yadier Molina throughout the fan balloting but caught up in the final hours. He will be an All-Star for the fourth time in five seasons. Posey is batting .291 with 10 homers and 40 RBI, and he might have surpassed Molina as the best defensive catcher in the National League, nabbing a league-leading 59 percent of opposing baserunners who try to swipe a bag.
Bumgarner and Cueto are both in the conversation to start for the National League, although Bumgarner will be eliminated if he — as expected — starts Sunday for the Giants. The left-hander is second in the Majors with a 2.20 ERA and fourth in the NL in innings pitched (114 2/3) and strikeouts (126). The All-Star selection is the fourth straight for Bumgarner, who had hoped to compete in the Home Run Derby, only to see that idea nixed last week.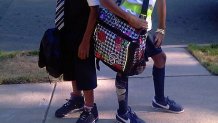 Cueto was an All-Star just once in his years in Cincinnati, but he is a no-brainer in his first year with the Giants. He has a 2.57 ERA in an MLB-high 122 1/3 innings. Cueto is tied for the National League with 12 wins, and the Giants have won 15 of his 17 starts. Bochy said he wouldn't be opposed to one of his workhorses starting the All-Star Game. The choice will be made by Terry Collins, manager of the Mets.
"I think it would be an honor," Bochy said of Cueto. "What a great honor that is, and to go two innings, he'd be fine."
Cueto said that no matter where he lines up, he hopes to throw to Posey, noting with a laugh that he doesn't want to teach his windup tricks to another catcher.
"He's my favorite catcher," Cueto said in Spanish, smiling as interpreter Geoff Head relayed the message.
The Brandons got caught up in a numbers game despite both putting up numbers that could land them on MVP ballots when all is said and done.
Crawford is sixth in the National League in Wins Above Replacement per both FanGraphs and Baseball-Reference, and advanced metrics rank the 2015 Gold Glove Award winner as the best defensive player in the big leagues. A year after making his first All-Star team, Crawford might be the biggest omission. His chances were hurt when rookie Addison Russell, who statistically is not one of the five best shortstops in the league, was voted in by a Cubs fan base that dominated the voting process from start to finish. Dodgers rookie Corey Seager won the player vote. Crawford's teammates were stunned by the announcement.
Belt has a .295/.398/.510 slash line and when you adjust for his home park, you can make the case he's been one of the 10 best hitters in the National League. Unfortunately for Belt, first base is a loaded position in the National League. Anthony Rizzo won the fan vote (along with three other Cubs infielders), Paul Goldschmidt won the player vote, and Wil Myers was selected as the lone Padres representative.
Belt took the snub in stride, saying he has faith that Giants fans will vote him in. In the Twitter vote, he's up against Ryan Braun, Trevor Story, Jake Lamb and Starling Marte.
"The other guys are very, very good and it's going to be some tough competition, but I have a lot of faith in our fans," he said. "Unfortunately I didn't get picked by (players) but I still have a shot. I'm pretty happy to still be in the running. I can still sneak in there. If I can sneak in there it would be an awesome experience and something I would never forget."
Belt said he won't vote for himself because that would "feel weird," but he already has texted a few friends and told them to help out. Belt is having his best season, and he's hoping to be an All-Star for the first time since he was in High-A ball in the minors. He participated in the Home Run Derby before that game.
"I hit zero homers, so that was kind of embarrassing," he said, laughing. "It was a big park, though."