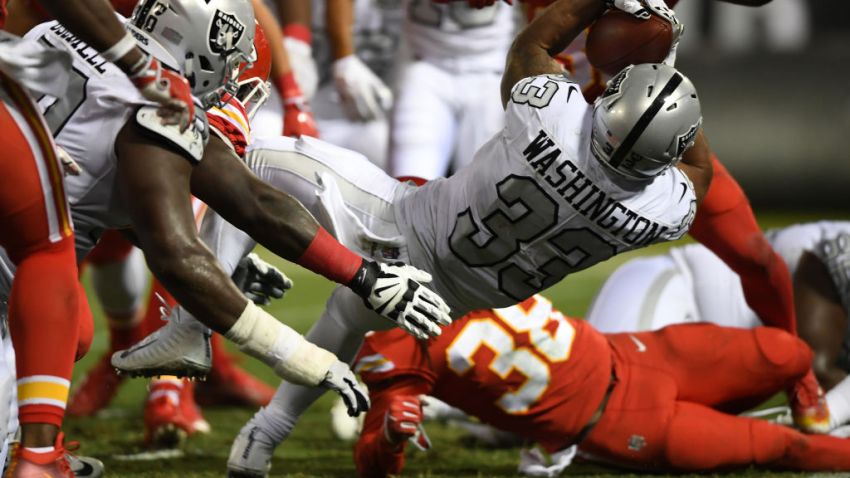 When Marshawn Lynch was ejected from Thursday night's victory over the Kansas City Chiefs, running backs Jalen Richard and DeAndre Washington had to play more significant roles.
Those roles are again expected to be prominent when the Raiders travel to Buffalo for Sunday's game against the Bills.
Lynch has appealed a one-game suspension handed down by the league Friday for leaving the bench to come onto the field during an altercation. That appeal could be heard as soon as Tuesday. It seems likely, however, that the appeal will be rejected and Lynch will have to sit out the Buffalo game. He would return in time for the Raiders' game at Miami on Nov. 5.
If that's the case, then Richard, Washington and fullback Jamize Olawale will need to have strong games to power the Raiders' rushing attack. Jerry McDonald of the Bay Area News Group also noted that Oakland also could activate rookie running back Elijah Hood off the practice roster.
With Lynch out vs. the Chiefs, Oakland rushed for just 88 yards. But, while playing from behind much of the game, quarterback Derek Carr was forced to throw (52 attempts). So, if the Raiders can get a lead early Sunday in Buffalo, Richard, Washington and Olawale could get the ball more often.
Against the Chiefs, Washington had nine carries for 33 yards and a touchdown. Richard had nine carries for 31 yards.
Raiders head coach Jack Del Rio says the Richard-Washington duo actually gives Oakland a different look.
"If you're playing a little more wide open, in some respects they give you a little more juice," Del Rio told McDonald. "Marshawn gives you the power back when you want to finish people in tough situations, but those guys give you more than a change of pace."
Richard and Washington were key players in 2016, making big plays in the running and passing games.
"Those two guys have a lot of heart, a lot of quickness," said Del Rio. "They were hungry for the opportunity to take full advantage and did a nice job for us."
Richard was excited to play a role in the must-win victory over Kansas City that improves the Raiders to 3-4 and broke a four-game losing streak.
"It's one of those games that gives you goosebumps, man," he said. "We just believed throughout this whole game, fighting back to get this win against K.C., and it's a division game, too. It's big right now for us."
Kickoff for Sunday's game at Buffalo is set for 10 a.m. in the Bay Area.