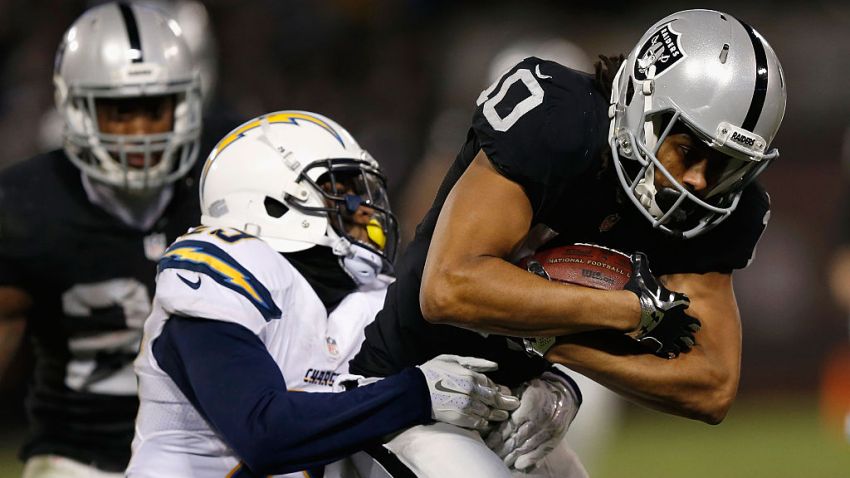 For any wide receiver on the Raiders not named Amari Cooper or Michael Crabtree, the job is to be an effective and efficient role player.
For Seth Roberts, it can be an important role. And now that he re-signed with the Raiders Monday, it will be one he'll try to improve upon in 2017.
In 2016, Roberts – the team's No. 1 slot receiver – had 38 catches, with five of them for touchdowns. In 2015, he had 32 catches for five other scores. The 6-foot-2, 196-pounder from West Alabama, an undrafted free agent who caught on with the Raiders in 2014, especially has been effective in clutch, late-game situations. In a victory over the Carolina Panthers in late November, it was his two-point conversion catch in the fourth quarter from Derek Carr that tied the game that eventually was won by Oakland, 35-32. In late October, it was Roberts who had a 41-yard touchdown reception from Carr that lifted the Raiders to an overtime win over Tampa Bay, 30-24.
In fact, since he joined the Raiders, Oakland has never lost a game when Roberts has caught a touchdown pass.
Roberts will go into this offseason as a possible starter in the slot again, although recent free-agent acquisition Cordarrelle Patterson could win the job with a good training camp. It should be an interesting battle. Plus, as effective as Roberts has been in a supporting role, he's had a problem with drops. In 2016, his catch rate actually dropped from 58.2 percent in 2015 to 49.9 percent. He was targeted 77 times in 2016 but had just 38 catches. By comparison, Crabtree's catch rate was 61.4 percent and Cooper's was 62.9 percent in 2016. With the Vikings this past season, Patterson was much more sure-handed. He had a catch rate of 74.3 percent (52 of 70).
But, Roberts has one thing in his favor: the confidence of Carr.
Over the past two seasons, Carr has made a habit of going to Roberts in key situations, and Carr says Roberts finds a way to get open.
Said Carr this past season, after studying film of Roberts: "One thing I continued to see over and over again is when he was man-to-man, he won his route. That is huge. And he's not just winning, he's creating separation."
The question will be, can he create separation from Patterson this summer and continue to be the team's No. 3 wide receiver.