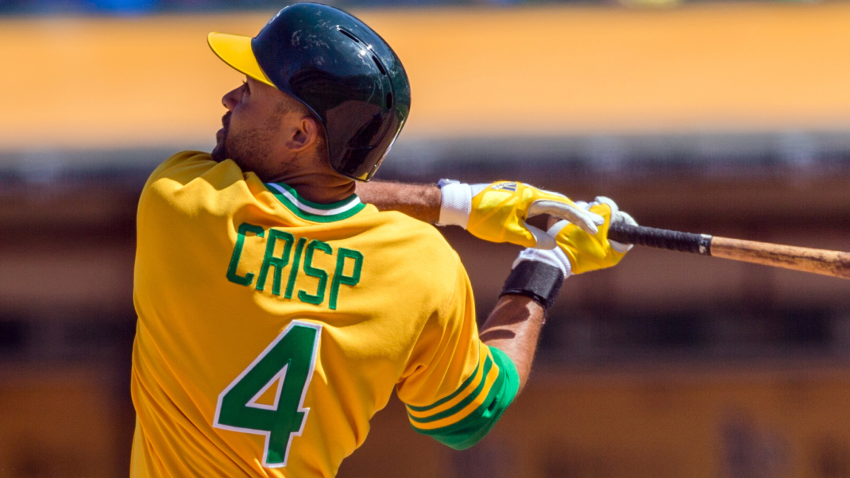 Nine years ago today, the A's signed free agent outfielder Coco Crisp to a one-year, $5 million contract with a club option for $5.75 million in 2011. Crisp was 30 years old and entering his ninth Major League season. He was coming off a disappointing year with the Royals, which was shortened by shoulder injuries.
Let's revisit the deal and see how it could shine light to the A's current free agency needs.
Performance
Crisp's 2010 season with the A's was also hampered by injuries, but he was highly effective when he did play. In 75 games, Crisp slashed .279/.342/.438 with eight home runs, 38 RBI, and 32 stolen bases in 35 attempts. Oakland exercised Crisp's option in 2011 and he rewarded them with a career-high 49 stolen bases, to go with a .264/.314/.379 slash line.
The A's re-signed Crisp to a two-year, $14 million deal with a club option for 2014. He put together the best season of his career in 2013, slashing .261/.335/.444 with 22 homers and 66 RBI.
Crisp spent a total of seven years in Oakland, finishing with a .253/.322/.397 slash line, 69 home runs, and 169 stolen bases. He earned $53.25 million over the seven seasons.
Lesson
Crisp had a long and mostly successful tenure in Oakland. At his peak, he was one of the best base stealers in the league and had great range in center field. He provided a great deal of energy at the top of the A's lineup and actually proved to be quite durable after the 2010 season.
Oakland was able to sign Crisp for relatively cheap due to his disappointing 2009 season in Kansas City. The A's focused on his success prior to that season and benefited from several years of stellar performance.
It's not uncommon for good players to have a down season once in awhile. The lesson here is that shouldn't scare teams off in free agency.
Comparable free agent
Like Crisp in 2009, Pirates utility man Josh Harrison missed a lot of time to injury and struggled when he did play. In 97 games, Harrison slashed .250/.293/.363 for his worst season since 2012.
Harrison has spent his entire eight-year career in Pittsburgh, compiling a .277/.317/.408 line with a pair of All-Star Game appearances. He put together a terrific 2017 campaign, slashing .272/.339/..432 with a career-high 16 home runs and 47 RBI before falling off in 2018.
At just 31 years old, Harrison should still have several good years in front of him and looks like a solid gamble for the A's to pursue.
Copyright CSNBY - CSN BAY