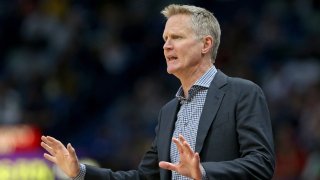 Steve Kerr knew this season would be different, how could he not?
Still, even the Warriors head coach couldn't have predicted how drastically different his sixth season in the Bay would be.
Kevin Durant left to become a Net. Klay Thompson likely will miss the entire season rehabbing his torn ACL. Then, Steph Curry broke his left hand and will be re-evaluated in February and D'Angelo Russell missed nine of the first 21 games with a thumb sprain, leaving Kerr to lead a group of rookies, role players and reclamation projects through the NBA season.
Dynasties aren't built to last. Kerr, a six-time NBA champion as a player and coach, knows that. He knows how fleeting championship runs can be. The Warriors have gone from dreaded bully thirsting for June champagne to champion laying on the canvas as a 12-month recharge washes over them.
"No," Kerr laughed when NBC Sports Chicago's K.C. Johnson asked if he thought anyone savored last season's run when he told them too. "It's human nature to think we're going to win it again and we're going to keep going forever. Life changes quickly.
"I talked not only to the media and our fans but to our team. Last year there were several times when I said, 'This is going to be our best chance to win a championship.' We've got an incredible opportunity that may never come up again. That's something that's important for everybody to realize---fans, management, players. It is lightning in a bottle. You can do everything perfectly and you still may not get to where you think you might be."
The Warriors will be back. That's the plan at least. This season serves as a reboot point. A mere pitstop in a dynasty that has been paused not concluded.
But plans, even those best laid, rarely go as drawn up. Kerr knows that. That's why he implored everyone from Curry to those sitting in the nosebleeds at Oracle Arena to enjoy one of the most impressive runs in NBA history.
You never know when things will come back, and things surely will never be the way they were when Curry and Warriors were pulverizing teams into oblivion en route to five-straight NBA Finals appearances.
That ride, as Kerr predicted, came to an end.
A new one has begun.
[RELATED: Warriors' plan might draw speculation after two inexplicable losses]
The Warriors sit at 4-19. Rookies Eric Paschall and Ky Bowman have played well, as has veteran swingman Glenn Robinson III. But it's unlikely to amount to many wins this season. It's instead about teaching, about growth for next season when a fully loaded Warriors team will enact its vengeance on an NBA that is taking pleasure in pummelling the wounded champions.
That will be a sweet moment for Kerr and the Warriors, should it come.
Pleasure, in sports and in life is, fleeting. Titles come. Confetti falls. Elation hits. Then, it's on to next year, and one day, before you've blinked, things are different. The run is over and a new course has been charted.
That course is expected to get the Warriors back to the top soon. If it does, expect everyone to heed Kerr's advice and enjoy the ride.
Copyright C