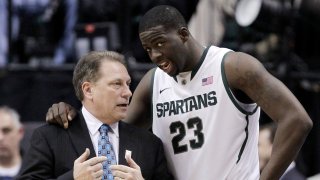 Warriors forward Draymond Green will never forget Dec. 3, 2019.
Why?
Because his No. 23 Michigan State jersey is being retired at halftime of the Spartans' showdown against Duke.
Known Warriors attendees going to Draymond's jersey retirement:

Steve Kerr, Zaza Pachulia, GM Bob Myers, CEO Joe Lacob, Klay Thompson.— Logan Murdock (@loganmmurdock) December 3, 2019
On Tuesday afternoon, Steph Curry, Klay Thompson, Steve Kerr, Bob Myers and Zaza Pachulia issued congratulatory messages in a video posted by the Warriors' official Twitter account:
Michigan State through & through.

Some of the squad came together with a message for @Money23Green ahead of his @MSU_Basketball jersey retirement. pic.twitter.com/2mw35SVvxr— Golden State Warriors (@warriors) December 3, 2019
Yes, Klay's comment right out the gate is the best part.
Draymond is extremely proud to have attended Michigan State, which is like home to him. In September 2015, he donated $3.1 million to the school.
[RELATED: Warriors' Chriss explains mindset on non-guaranteed deal]
The three-time NBA champion played for the Spartans from 2008 to 2012, reaching the Final Four in 2009 and 2010.
Copyright C