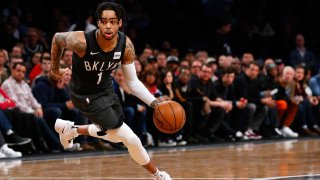 The Warriors head to Charlotte to take on the Hornets in what could be an interesting matchup.
Both teams appear to have a lackluster impact as of late with the Hornets struggling during some of their opening stretches.
The Warriors have lost at each of their first three cities during their five-game road trip.
Eric Paschall continues to dominate coming off a 24 point game against the Atlanta Hawks on Monday.
Luckily for Wednesday's matchup, Steve Kerr announced D'Angelo Russell is "probable" after a nine-game absence. The Warriors appear to be on the mend.
here's how you can watch Wednesday night's Warriors-Hornets game:
When: Wednesday, Dec. 4 at 4:00 p.m. PT -- pregame coverage begins at 3:00 p.m.
TV Channel: NBC Sports Bay Area
Live Stream: MyTeams App
Copyright C