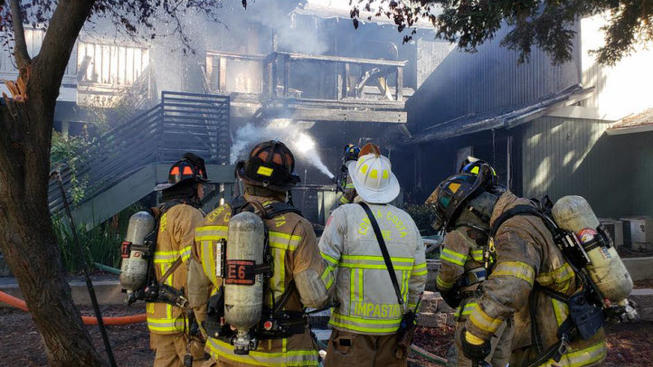 NFL teams can't make trades until March 9, but reports out of Chicago indicate the Bears already are looking to deal starting quarterback Jay Cutler.
"Teams around the league are now aware of Cutler's availability while the Bears attempt to garner draft compensation for their eight-year starter, and conversations ae expected to heat up during next week's NFL scouting combine," wrote Jeff Darlington, who covers the Bears for ESPN.com.
One possible landing spot for Cutler is the 49ers, reports ESPN's Jeff Dickerson.
Dickerson lists the Jets, 49ers, Bills and Dolphins as teams most likely to have interest in acquiring Cutler, 33.
"Cutler played with new 49ers general manager John Lynch in Denver," wrote Dickerson Wednesday. "And 49ers head coach Kyle Shanahan's father, Mike, coached Cutler in Denver when Cutler made the only Pro Bowl appearance of his career (2008). It's not as if the 49ers are loaded with better options. San Francisco may be content with a Matt Schaub/rookie combo at quarterback in 2017, but it would not be a huge surprise if it considered Cutler."
Schaub served as backup in Atlanta this past season to Matt Ryan and has been reported to be a possible addititon to the 49ers this offseason.
Cutler has had his critics over an 11-year career that began in 2006 in Denver. As a starter he has a won-lost record of 68-71 and hasn't been part of a winning team since 2012, when the Bears were 10-5 in his 15 games that season. He's also prone to interceptions, twice leading the NFL in picks. Plus, he's coming off a year in which he played just five games because of a shoulder injury that prompted surgery in December.
But as a stopgap starter in San Francisco for Shanahan, Cutler would likely be a huge improvement over what the 49ers had at QB in 2016. In his most recent full season (missing just one game) in 2015, Cutler had 21 touchdown passes vs. 11 interceptions and had a quarterback rating of 92.3, the best of his career.
Adding Cutler would allow Shanahan to have a veteran capable of running his new offense while using draft picks and free agency to build around him for a year or two until the team can bring in a young quarterback capable of emerging as a franchise passer.
The 49ers also have been linked to other veteran QBs this offseason, via trade or free agency, including Kirk Cousins and Jimmy Garoppolo.