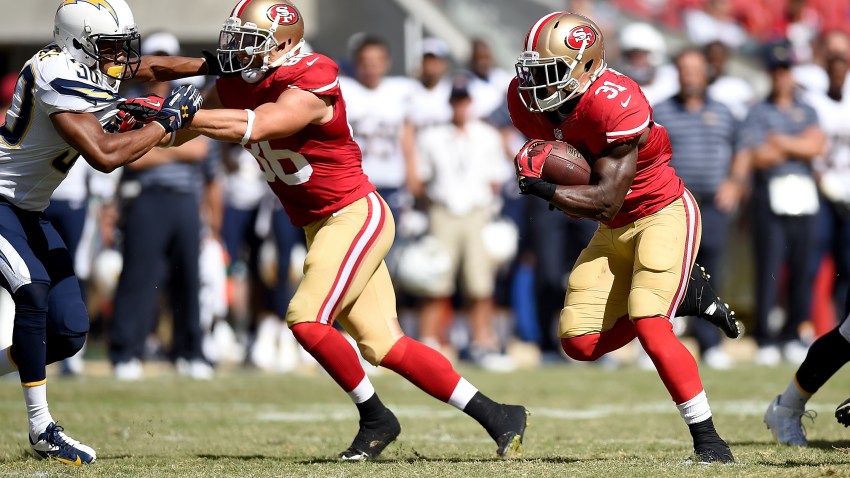 No matter how well running back Glenn Winston plays Thursday night in the 49ers' final exhibition game, it's unlikely he'll make the 49ers season-opening roster.
He's buried on the depth chart behind Frank Gore, Carlos Hyde and LaMichael James, and Marcus Lattimore is waiting in the wings to be activated some time in 2014.
But Winston has opened some eyes in training camp and is coming off a very good performance this past Sunday against the Chargers in which he picked up 58 yards on eight carries, including a 27-yard touchdown run.
The 6-foot-2, 220-pounder showed both power and speed.
With another good night Thursday in the 49ers' final exhibition game vs. the Texans in Houston, Winston could fight his way onto the practice squad or as a special teams player.
Winston, 25, was a late addition to the team's training camp roster, signed as a free agent in early August after Kendall Hunter tore a knee ligament. Winston didn't get any carries the first two exhibition games but made the most of his opportunities against the Chargers.
He took a roundabout route to the 49ers, coming out of Northwood University in Michigan after starting his collegiate career at Michigan State. According to multiple reports, Winston had some off-the-field issues and injury problems before landing at Northwood. In 2013 at Northwood, Winston had 717 yards rushing on 175 carries for nine touchdowns.
He says he's just relishing the chance to show the NFL he can play.
"It means the world to me," he told the 49ers' website, of his opportunity. "I want everybody to know that the underdog is truly not the underdog."
Even after this big day, he's a realist. He know the odds are long and he has to keep working. Another good game against the Texans will help.
"I study hard, I work hard, I study the playbook every night," he told 49ers.com. "I'm about to go in there right now and study. I love the grind. I'd rather be doing it than not doing it."
Niners head coach Jim Harbaugh said Winston "ran physical, pushed the pile" and played well on Sunday. It's something the coaching staff has seen since he arrived.
"He's been good here since the day he got here, as a teammate, as a person and acquitted himself well on the field," Harbaugh said this week. "We'll see where it goes. But he's done some very good things in the game, scored a touchdown. He was very excited about that after the ballgame and some of his other runs. So, I was happy for him."
Whether Winston remains with the 49ers in Dallas for the Sept. 7 season opener, however, still seems like a long shot. But Winston's already beaten the odds to get this far.