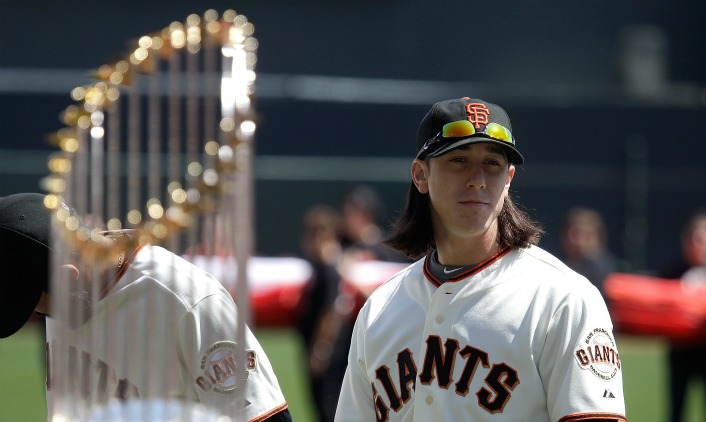 Free agency is set to begin shortly, but that doesn't mean we can't already wonder about the Giants chances of winning the 2012 World Series.
After all, Vegas -- or, more specifically, BoDog.com -- has already gotten a headstart on it, setting World Series odds for the 2012 season less than 24 hours after the Cardinals victory parade.
The Giants, according to the site, are 17/1 to hoist the hardware at the end of the season, which actually makes San Francisco one of the bigger favorites around MLB.
The Phillies, the Yankees and the Red Sox are, as usual, the top-three favorites at 5/1, 7.5/1 and 9/1, respectively.
This is no different from nearly every other year, when the three teams with the most talent and the biggest fanbases end up near the top. These teams will generate lots of bets because they are big names, even if the odds are a little low.
The defending-AL champion Rangers check in at 13/1, and the defending World Series champion Cardinals, along with the Tigers are at 15/1. After that, it's the Giants.
Arizona, the 2011 NL West winner, is 21/1, the Rockies are 26/1, the Dodgers are 31/1 and the Padres are 76/1. (Only the Houston Astros are longer shots.)
But does the Giants bet represent good value yet? One could argue it does, especially if the team plans on signing a big(gish) bat in free agency. The Giants began last season as 12/1 to win the World Series on the heels of their first title in San Francisco.
If Brian Sabean can reel in just Carlos Beltran or Jimmy Rollins -- not to mention Jose Reyes or any of the other big names in free agency -- today's odds would likely shrink to something resembling last year's 12/1.
So if you believe the team will spend on offense in free agency, and you like to gamble, now's a pretty good time to get that early-offseason bet in.