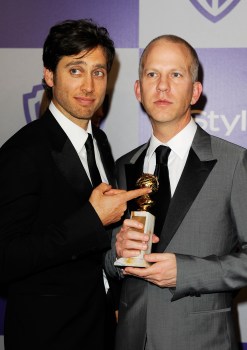 Getty Images
"Glee" producers Brad Falchuk and Ryan Murphy are taking a stab at a horror series for FX.
"Glee" producer Ryan Murphy is about to go from blood-pumping pop songs to blood-curdling screams.
FX has announced that it has greenlit "American Horror Story," a new one-hour pilot from Murphy - the exec producer behind TV's phenomenally popular series – and "Glee" co-creator Brad Falchuk in hopes of tapping the horror vein for fresh blood as successfully as they revitalized the musical genre.
"'American Horror Story' is a project that Brad and I have been discussing for a while," said Murphy, who previously created "Nip/Tuck" for the cable netlet, in a statement. "[FX president] John Landgraf and I have maintained a wonderful relationship since 'Nip/Tuck' ended its run and he gave me an open invitation to develop a new show for the network. FX is the perfect place for this series and we look forward to a great homecoming."
"That network put itself on the map for its big, bold, some might say slightly twisted shows, and the creative freedom we had on 'Nip/Tuck' was incredibly liberating," agreed Falchuk, who rose through 'Nip/Tuck's' writing ranks to become executive producer. "John immediately got what we were trying to do, which was bring the horror genre to television, but with our own subversive sensibilities. And we couldn't be more excited to get started."
"And as for 'Glee,'" Murphy added, "fans can rest assured that we haven't taken our eyes off that ball for a second. We've broken the stories for the season's remaining episodes and we've got big things planned for our little glee club as it strives to make it past Regionals to the all-important Nationals competition in New York City."
Landgraf couldn't resist welcoming the 'Glee' duo back to FX by literally singing their praises "'American Horror Story' is a wildly brilliant original series. Ryan and Brad are evil geniuses and, in the spirit of the great Louis Armstrong: 'Hello, Dolly, well hello, Dolly, it's so nice to have you back where you belong…'"