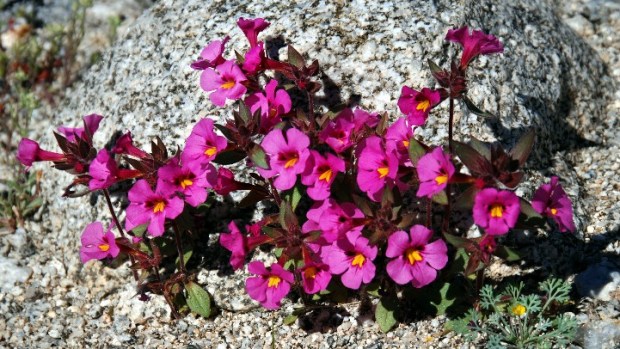 Borrego Springs Resort & Spa
Flowers in the desert? Yep. Best get down to Borrego Springs.
DESERT ALIVE: With respect and loving memory we shall share a Tony Hillerman anecdote here. Some years ago we heard the mystery author talking about how two men on a train he was riding discussed the aridity and lack of beauty of the desert (the train happened to be speeding through the Southwest). The conversation stuck with the writer, who did not concur. Mr. Hillerman then spoke eloquently of the desert to his audience, of its beauty and life, something many of us agree with. The desert is absolutely wild with life, and, in the spring? Very often there are flowers. Delicate petals and thin, green stems. We have several stretches around the Golden State that get their share of flowers come late winter. Beautiful Anza-Borrego is one such place.
BORREGO NOW: Borrego Springs Resort & Spa has reported that the petals are starting to pop around the Anza-Borrego. And when the popping begins, so do the packages. The hotel currently is offering a Desert Wildflowers Package which includes an overnight at the resort and other goodies, like a book and map. And the headline? It starts at under a hundred bucks a person, even on a weekend night (and it drops even a little lower than that on weeknights). You'll want to watch the resort's Facebook page for flower updates, or the Anza-Borrego State Park main page. Yep, our deserts are definitely arid, but, beneath the soil? All sorts of sweet-smelling secrets ready to burst.