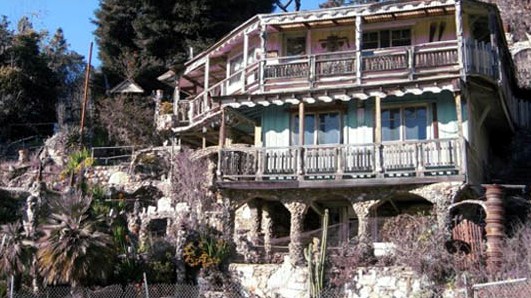 Obscura Day
ARTify Cambria, an Obscura Day event, will celebrate Nitt Witt Ridge on Saturday, April 28.
NIFTY NITT WITT: There are many fine events and outings happening around Obscura Day, but there are two true things. One? As we approach the Saturday, April 28 celebration of all that is weird, funky, and offbeat, a lot of those happenings are jam-packed and sold out. And two? While a lot of the places are certainly wonderful and eerie and magical, there are only a handful of special locations in which we can find inspiration for our own domestic lives. We're going to put forward that Nitt Witt Ridge in Cambria is one place that is both offbeat and inspirational. The offbeat? It's a tribute to upcycling, of using every little bit of everything to build your abode. Well, and that's pretty much the inspirational part, too. For those of us looking into sustainability and reuse and the fact that a lot of everyday objects can go into the building of a home, Nitt Witt is a comforting reminder that it can be done.
THE OUTING: There are five tours on April 28 and ten people are allowed on each tour; Atlas Obscura, the folks behind Obscura Day, just posted that there are a few slots left. Sign up right quick if you love yourself some Cambria -- we bet you do -- and if you want to see a house that is full of quirk and repurposed stuff stuck everywhere. It is quite the sight. Will you go home and build a wall from teacups? Even if not, bet you'll see Art Beal's legendary hillside pile turn up again and again in your domestic dreams.